Microsoft Surface Phone or Microsoft Andromeda, What's Going On?
(ThyBlackMan.com) Microsoft Surface Phone or Microsoft Andromeda whatever you call it but it is the only hope for Microsoft's diehard fans. In 2017, the company signed the death warrant of Windows Phone and its key people like Joe Belfiore, Corporate Vice President said that they have switched to Android. But no matter how many times Microsoft crushes the hopes, fans still believe that Microsoft Surface Phone is a reality and to prove their claims, they have copies of patents filed by Microsoft.
Last year, infinity display was the biggest challenge for smartphone makers and eventually, many of them introduced full vision display in smartphones. Now when the hunger for innovation seems unbeatable, fans want to see foldable phones and some manufacturers are reportedly working on making such devices. If patent filings by Microsoft are something to go by, some of them are giving clues about a smartphone coming from the company.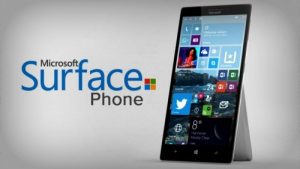 Microsoft is silent and nobody is officially talking about any smartphone, but if the technology we have seen in patents takes shape, a beautiful foldable phone is probably coming from Microsoft. We can't deny with the fact that there are chances that the company is secretly working on a killer smartphone which can either be a standard foldable smartphone or something that serves the purpose of a tablet, smartphone and a compact surface device.
In 2018, if you imagine a foldable phone, the first thought that comes to mind is 'are we going back to where we started from?' We can't forget those beautiful flip phones and those days when innovation in smartphone industry was faster than what it is today. Soon after that we got touch screen devices, bigger display size, better performance and features. It was a beautiful journey but going back to where we started from is not exciting. Thankfully, today we are not looking at a patent that shows a flip phone, but the diagrams we see in those patents show us a device with foldable display. It means that what we would be holding and folding is a screen.
On papers, the idea of a new Microsoft Surface Phone appears to be great and it looks very promising. We see that the area from where the device can be folded is completely detachable. The patent details also show that the device which is also known as Andromeda will feature magnetic locks. It is a similar kind of mechanism that exists on laptops. These feature look great on papers and it was the same case with Windows Phone, but lack of apps and the absence of a strong support on the platform made people skip Windows Phone.
The Surface Phone or Microsoft Andromeda whatever it is called might feature a single camera but surprisingly this camera will work in a very different way. It will work on the outside and inside of the device whenever the display is folded. It is being said that this was made possible with the help of customizations on lens configuration. As a result, one sensor allows the light to come inside from both inside and outside.
Some reports claimed that the Microsoft Surface Phone is almost ready and it will be launched sometime in 2018. If the reports are something to go by, the final prototypes of the device are already under testing and there are reports about the device's hardware claiming that it will come equipped with Qualcomm's Snapdragon 845 hip. This is too early to speculate on such things because some of the patent applications were filed in late 2016 so expecting such device to come any time soon sounds unrealistic.
It is not easy to trust all the reports because companies like Microsoft file application for many patents and many times companies simply dump their plans during development. Only the company knows whether the Microsoft Surface Phone or Andromeda tablet is coming or not. But if it happens, there are very high chances that Microsoft will not touch its own Windows Phone operating system for the device. If things go well, Microsoft will keep users tied to a device-specific version of Windows 10.
Staff Writer; Corey Shaw
Have any Tech Tips? News? Hit up our Tech Guru at; CoreyS@ThyBlackMan.com