'March for Our Lives' creates a buzz in sports community.
(ThyBlackMan.com) The issue of gun violence is among the most prominent issues in America right now. Due to amount of mass shootings in America and the recent school shootings and school threats, gun violence and gun regulation has become even more highlighted in American society. Last weekend, a significant student-led peaceful demonstration took place named 'March for Our Lives'. It followed The ENOUGH National School Walkout, that was organized by young people working with Women's March Youth Empower, that occurred earlier this month. 'March for Our Lives' was led by the student survivors of the Parkland, Florida high school shooting massacre and they had many incredible speeches and moments in which it was clear that many young people are aware that gun violence is a significant issue.
Prominent athletes and coaches have become more and more comfortable with speaking out publicly regarding social issues and issues facing Americans a daily basis. There was numerous notable reactions from those in the sports community to the 'March for Our Lives'. Chicago Cubs first baseman Anthony Rizzo, who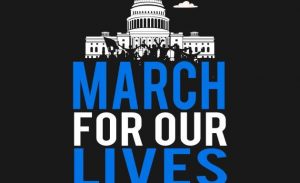 graduated from the Marjory Stoneman Douglas High School where the Parkland shooting took place, posted a social media photo of his family members participating in the march. Miami Heat guard Dwyane Wade and his wife, Gabrielle Union, donated $200,000 to help send kids to the march in Washington D.C. Oklahoma City Thunder forward Carmelo Anthony, who has become more socially active in his career, also helped pay to send more than 4,500 kids from Baltimore to the march in Washington, D.C.
Basketball and Boston Celtics legend Bill Russell has a long history of being an activist along with being a superstar athlete. He reacted to 'March for Our Lives' through social media on Twitter, by tweeting, "If you can get out & support @AMarch4OurLives today I am proud of this generation standing up for injustice & having their voices heard, making real change. The world is listening. Some may not know me but I stand with you". There were notable sports personalities who even participated in 'March for Our Lives' including Los Angeles Lakers owner Jeanie Buss and former two-time NBA MVP Steve Nash.
Arguably the most socially outspoken coach in American sports, Gregg Popovich, had a strong reaction to this student-led demonstration. He had critical acclaim for the youth and criticized politicians while saying, "Well, the future of the country is a pretty big thing. There's not one event that is going to signal what it's going to be like in the future. But I can tell you that I'm sure most everybody is going to be unbelievably proud and excited about those students and what they've done. Because our politicians have certainly sat on their thumbs and just hidden.
To most, it's almost like a dereliction of duty to watch all these people get killed with guns — in so many different ways, whether it's nightclubs, or schools, or cities. And it seems that the power and the money are more important than the lives. So to see these teenagers demand this, it takes you back." Awareness about gun violence and gun regulation is very high in America and it is being led by many brilliant and ambitious young people.
Staff Writer; Mark Hines