7 Lesser-Known Facts About The Apple HomePod.
(ThyBlackMan.com) It's fair to say that everyone is impressed by the features of Apple HomePod. We all know that Apple has made it very clear that only iPhone users and iPad users can enjoy the benefits of HomePod, and the device is tied to the Apple ecosystem. Here are some more interesting facts about Apple HomePod you should know before you buy it.
1. You can't ask Siri to make calls, read your emails or manage appointments
You can make calls using Siri on the HomePod but you will have to dial the number using your iPhone. We all know that the HomePod is limited to iOS users and those on Android have to look for other smart speakers, but what's more disappointing is the fact that the device doesn't even work with emails, calendars, and many other apps.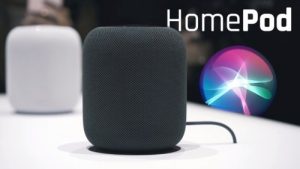 2. Siri only works with Apple Music
You can use Apple's HomePod as a Bluetooth speaker to listen to music through any streaming service, but if you want to control the music part with Siri, it is possible only with Apple Music. Most of the iPhone users have Apple Music and if this application is your first choice for music then there's no problem at all, but if you love managing music on other apps, you won't get Siri's support. So when you'll say "Siri, play some rock music", Siri will work with Apple Music only.
3. HomePod cannot recognize different voices
When other speakers are smart enough to recognize voice and switch between multiple accounts, HomePod plays dumb. It doesn't recognize other voices as there's no way to set up multiple accounts. It means that only one registered user's music choice will be considered and you will have to mix up your taste of music with your mother's or your roommate's choice if they also want to listen. Luckily, there's a setting on the HomePod which you can use to keep your music section unaffected, but it remains to be seen how effectively it works with Apple Music.
4. HomePod isn't smart enough to order food for you
You can't order a meal online with Apple's HomePod. Even if it is a smart speaker, it is not integrated with such third-party apps to let you order food or book a taxi from Uber. If you want to get this done, take out your phone and do it because HomePod isn't capable of doing this for you.
5. You can't set multiple timers on the HomePod
If you think that bringing Apple's HomePod will help you in many ways, it will surely do that. But if you are expecting it to remind you of events on multiple occasions, it won't happen because you can set only one timer. You can't set more than one timer on the HomePod and you can't even name the timers on this smart speaker. According to Apple, the HomePod is a speaker first which is purely designed to deliver best in the class music experience.
6. No physical button to mute mic
Google Home and Amazon's Echo sport a physical button to mute the microphone, but the HomePod doesn't feature any such button. A physical button is good if you do not want your smart speaker to listen to you all the time. For some users, having a button to mute the mic is a way to ensure privacy. You can mute the mic on the Apple HomePod with a voice command as there is no physical button available on the device.
7. Siri's decision-making capabilities
Let's say you are wearing an Apple Watch, holding your iPhone in one hand and your HomePod is also kept near you. When you say "Hey Siri," which device do you think will respond? Apple has given smart decision-making ability to Siri. So, when you're raising your hand in which you're wearing an Apple Watch, Siri on your watch will respond. If you're holding a phone, then Siri on your phone will respond and if none of your devices are engaged, Siri on the HomePod will take over.
Apple has developed a music speaker and it meets the expectations. The sound is truly amazing on the HomePod and you'll not find the same audio quality on any other smart speaker – be it Echo or Google Home. But as always, there are limitations which you can either love or hate.
Staff Writer; Corey Shaw
Have any Tech Tips? News? Hit up our Tech Guru at; CoreyS@ThyBlackMan.com