DeMar DeRozan Continues The Discussion About Mental Health Among Black Men.
(ThyBlackMan.com) It would appear that Toronto Raptors' guard DeMar DeRozan is living a life that many people would envy. He is a professional athlete who has been selected as an NBA All-Star four times and he will make an eye-popping 27.7 million dollars over the course of this 2017-18 NBA season. At 28 years old, he is young, rich, and has some fame while playing one of the most popular sports in the world. However, he made waves last month after his social media tweet that revealed a personal part of himself. On February 17, 2018, DeRozan tweeted "This depression get the best of me…" from his Twitter page. DeRozan's admittance of his mental health situation was meaningful on multiple levels.
Mental health is an extremely significant part a person's well-being. While many people focus on physical health in terms of diet, exercise, and body weight, mental health doesn't always get as much attention. However, millions of Americans are affected by mental health conditions every year. Professional athletes like DeMar DeRozan, who discussed his personal depression battles with The Toronto Star, also must handle their mental health. DeRozan opened up and mentioned that, "We all got feelings … all of that.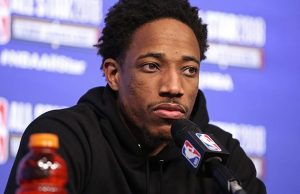 Sometimes … it gets the best of you, where times everything in the whole world's on top of you." He grew up in Compton, California and has been dealing with his mental health throughout his life while mentioning that "I've always been like that since I was young, but I think that's where my demeanour comes from." The fact that DeRozan felt the importance of opening up about his depression is vitally important given he is a black man as well.
It is well-documented that systematic and institutional racism has affected black people for centuries physically and economically. It also affects the mental health of black women and black men who are aware of the various negative stereotypes that they are labeled with due to their race that have existed long before their own birth. Prior to DeMar DeRozan opening up about his depression, professional athletes like NFL wide receiver Brandon Marshall and former NBA player Metta World Peace also spoke openly about their personal mental health situations. In 2011, Marshall announced at a press conference that he had been diagnosed with borderline personality disorder and World Peace, who then went by the name Ron Artest, famously thanked his psychiatrist after he won the NBA championship with the Los Angeles Lakers in 2010.
Over the past 10 years, some successful black male professional athletes have opened up the discussion about their mental health. DeMar DeRozan, Brandon Marshall, and Metta World Peace show strength by being vulnerable with their mental health situations. This vulnerability is important because black men, and men in general, often feel it necessary to hide their personal and mental struggles instead of discussing them. Mental health is the most important health a person can have and taking care of mental health is more important than ever before.
Staff Writer; Mark Hines