Mobile World Congress 2018: Who Will Steal The Show?
(ThyBlackMan.com) Finally, the month of February has arrived. Gadgets lovers from around the world are already on their toes and the reason is Mobile World Congress 2018! Yes, the most awaited tech event of the year is scheduled to take place from 26 February to March 1 in Barcelona, Spain. Mobile World Congress (MWC) has witnessed the launch of some of the greatest devices world has ever seen. In this year, expectations are already at the peak. Which brand is likely to make a lot of buzz at the Mobile World Congress 2018 and which are the products that will come out of the box? Here you have the answer, enjoy reading!
1. Samsung
Of course, Samsung never disappoints its fans and this year too it has a brand new phone to please them. The company has revealed that at 12 p.m. EST on February 25, 2018 (6 p.m. CET) during Mobile World Congress it will show its brand new Galaxy device that will deliver an extraordinary camera experience to its fans. You can watch the show live at Samsung U.S. Newsroom, Samsung's official website, and Samsung Mobile Press sites.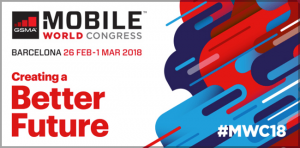 One more happy news! Fans are predicting that the upcoming Galaxy S9 will arrive with an improved iris camera and the interesting point is that Samsung has placed the fingerprint scanner below the primary camera. Galaxy S9+ is also likely to be unveiled at the same event alongside Galaxy S9.
2. Asus
For those who are looking for mid-range phones, Asus is not just a brand but a boon. It has been presenting some of the finest phones with a reasonable price tag. Asus has already created a hype through its Twitter post which teased the entry of new phone at the MWC 2018 platform and Asus fans are calling it Zenfone 5! Some leaked images have predicted that the upcoming Asus masterpiece will sport a 5 .7-inch, 18:9 bezel-less display and it will also sport dual rear cameras.
3. Sony
Sony is expected to take part in Mobile World Congress 2018. It has released its official invites to the press conference that will take place on Monday 26, February. But it has not mentioned the names of devices that will come out at the event, however, fans are waiting to see Xperia XZ Pro and Xperia XZ2.
4. Nokia
Nokia, the brand that started a new era in the mobile world will also grace the occasion at the MWC 2018. In fact, fans believe that there is a number of versatile phones hiding in Nokia's basket. The list includes Nokia 8 Sirocco, Nokia 6 (2018), Nokia 7 Plus and few more. However, the brand has been maintaining silence on all these speculations.
5. Huawei
Huawei is also likely to join the race at the Mobile World Congress 2018. But launching the product is not a possibility as the brand is holding an event on March 27 at Paris. Huawei may use this particular event to show off its brand new phones- Huawei P20 Lite and Huawei P20 Plus. At this point of time, predicting Huawei's next action is not so easy.
6. Motorola
Motorola has some extraordinary phones for this year. Under its Z, G and X series, the brand may bring out some awesome devices, however, it has not released any official statement about it. Under, Motorola G series Moto G6, Moto G6 Plus, and Moto G6 Play may get unveiled. No doubt, Moto X5 is also keeping fans busy in speculating its feature. The device may come out with a big screen. Yes, there is nothing wrong in looking for the phone at Mobile World Congress 2018.
7. LG
Usually, LG attends Mobile World Congress with a brand new phone. At MWC 2017, LG released its LG G6 with a 5.7-inch display. If the brand has planned to show its presence at the upcoming MWC, it may release LG G7 or a new variant of LG V30.
So, fingers crossed! Mobile World Congress 2018 will put an end to all the speculations and provide a clear answer to questions. Keep your hopes up and don't forget sharing your thoughts in the comment section below.
Staff Writer; Corey Shaw
Have any Tech Tips? News? Hit up our Tech Guru at; CoreyS@ThyBlackMan.com