Four Ways to Bring Relief to Your Natural Hair this Winter.
(ThyBlackMan.com) The change in seasons has its pros and cons. Some people like summer because of the weather, vacations and carefree spirit that comes with the season. Other prefer fall because it's cooler and the changing colors in nature are mesmerizing. For those that like winter, I can totally understand the draw – cute clothes, pumpkin spice everything and the happy holidays. But one thing about winter that I don't look forward to, besides the frigid temperatures, is the way the cold can wreak havoc on my hair.
This is especially true for naturals. I am a natural and having lived in different parts of the country, I have seen first-hand how the varying temperatures affect my hair. Understanding that this is a thing that happens and paying attention to it will better help you protect your hair during the coldest months of the year.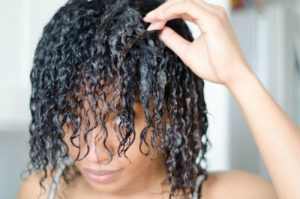 So, because we all need relief in one way or another, here are some ways to bring relief to your hair during the winter months.
Change Your Routine
This is key. The truth is you can't keep the same routine the whole year. Your hair changes based on a variety of factors including environment and exposure to the elements. To give your natural hair the relief it needs during winter, it's important to customize a routine that fits your needs. This includes things like products changes as well as technique changes in how you manage your natural hair.
Steam your Hair
Steaming your natural hair is a great way to really open up your pores and give your hair some much-needed hydration. Sometimes, what's present in the atmosphere can strip your hair of nutrients. Using moist heat to treat your hair encourages blood circulations and that is an ideal way to grow your hair as well. You can take steaming a step further by adding your favorite oils to your hair for a deep penetration of the good stuff.
Weekly Hydration Treatments
Along with steaming, you can hydrate your hair by committing to weekly treatments that do just that. One of the things that happens to your hair in winter is dryness. If you are prone to this, then it's a good idea to incorporate some kind of weekly process to replenish as much moisture and hydration as possible. Most people are good with only do this once a week. I say know your hair and do it as much as you feel is needed.
Protect Your Hair
It might become necessary to cover your hair when you are out in the winter air. I don't always do that because sometimes the weather where I am does not call for it. Nonetheless, when it's visibly harsh out and even sometimes when it's not, it might be beneficial to cover your hair with a beanie or scarf to shield it from winter elements that can negatively affect it.
There are a lot of things to consider when it comes to your hair and it can be easy to neglect your hair duties. But that is a move in the wrong direction. Try these tips on for size to see how they work for you. Keep your tresses strong and healthy this winter.
Staff Writer; Rasheda Abdullah