African farming production is dangerously decreasing due to climate change.
(ThyBlackMan.com) Climate expert's predictions for next decades are pessimistic. They stated that if the farming production decline and the fast population growth continue at the current rate, Africa could be able to satisfy only 13% of its food needs by 2050. Actually, 240 million african have hunger problem. Until 2050, if the temperature increases from 1,2 to 1,9 degrees Celsius, the rate of undernourished african shall increase by 25 to 95%, 25% more in Central Africa, 50% more in Eastern Africa, 85% more in Southern Africa, and 95% more in Western Africa. In Nigeria, Ivory Coast, Ghana, rice or maize production could fall by 5% to 25%.
According to the prestigious international scientific review Science, Southern Africa farming production would be one of the most affected by 2030.Wheat grows well between 15 and 20ºC. Today the annual average temperature in sub-Saharan Africa could reach higher degrees during the growing season. In this context, wheat production could fall by 10 to 20% by 2030.
The United Nations Environment Program's (UNEP) Africa's Adaptation Gap report reveals that a warming of 2 degrees Celsius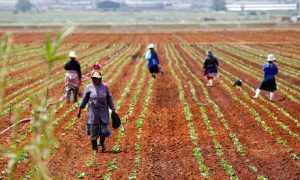 would damage in a 10 percent reduction the whole agricultural production in sub-Saharan Africa by 2050; higher warming could increase it to 15 or 20%. By the middle of the century, maize production could decline by 5%, 15% for sorghum, 10% for millet, wheat 17%. If warming exceeds 3 degrees Celsius, maize, millet and sorghum yields would be lost. In its 2014 report, the Intergovernmental Panel on Climate Change (Ipcc) wonders about a decline of main crops production, wheat, corn, rice by 2% per decade if global emissions of Greenhouse gases are not significantly reduced by 2050. To feed the planet, agricultural production shall progress by 14% every ten years.
According to the United Nations, 1.5 billion people, 600 million more than today, would suffer from hunger at the end of the century if pollution emissions current level persist. Africa could lose 47% of its agricultural ressources by the year 2100. Some optimistic predict a loss of only 6%. Next years, the water necessary for agriculture will be hard to get. According to UNEP, 95% of the african culture is rainfed. For the World Bank, the availability of water from rainfall, rivers will most likely decrease by more than 10% across Africa by 2020.
By 2020: between 75 million and 250 million people would to be exposed to a scarcity of water. In some countries, yields from rainfed agriculture have been reduced by up to 50%. Already major part of the farming land worldwide is degraded. The rising temperatures will accelerate desertification. In west africa, rain fall shall decrease if global emissions current rate is not seriously reduced. By 2050, important losses are expected to be. The rise of sea level, by the end of the century threatens agriculture in coastal states.
Senegal, a western africa country suffer from its lands which suddenly became salty, threatening millions people and farmers developing a economic system based on peanuts exploitation trade. The rising sea level caused by climate change has highly increased salt concentration in the lands nearby Sine River. In the wide Sine-Saloum Delta, between 700,000 and 1 million hectares of land were contaminated over the past 30 years. 700 km of sea coasts are affected. According to the people of Dioffior, the rice fields around the village were abandoned 30 years ago. Climate change stops the rain fall creating drought times, lack of water. In other case, rain fall too much, bringing floods which destroy crops production, send to exodus farmers, families and workers as it happened in Malawi to 2 million people.
Malawi in Southeastern Africa is one of the poorest country on the planet. It was several times subject to lot of natural disasters, droughts, floods, storms which enslave people in precarity. The government of Malawi in 2015 declared half of the country a disaster zone. Nearly 230,000 people in 15 of Malawi's 28 districts moved to seek refuge far. Soudan in the northeastern Africa is a very large country laying a heavy agricultural potential but the rain is scarce.
Source: IPPC the Intergovernmental Panel on Climate Change http://www.ipcc.org
Richard Munang and Jessica Andrews at the UNEP Africa regional Bureau (The United Nations Environment Program's) World Bank.
Staff Writer; Abu-Jahlil Astrid Chacha
One may also connect with this brother on Facebook; Segla A.