Saluting Ozzie Newsome, the godfather of black NFL front office executives.
(ThyBlackMan.com) The 2017 NFL season concluded with an exciting Super Bowl LII. The Philadelphia Eagles are the NFL's champions due to a balanced team led by Eagles head coach Doug Pederson and that was largely constructed by the Executive Vice President of Football Operations for the Philadelphia Eagles, Howie Roseman. Roseman's roster building of the Eagles led to him being named the PFWA's Executive of the Year award for 2017 but he is not considered the top front office executive in the NFL. For some people in the NFL, the arguably the best NFL front office executive is the General Manager and Executive Vice President of the Baltimore Ravens, Ozzie Newsome. Newsome has recently announced that the upcoming 2018 NFL season will be his last so it is important to recognize that he was a barrier breaker for multiple reasons as a black General Manager in the NFL.
Prior to his extremely successful career with the Baltimore Ravens, Ozzie Newsome had a Hall of Fame career in the NFL as a tight end. He was one of the best tight ends in NFL history while playing for the Cleveland Browns. He was a leader on and off the field during his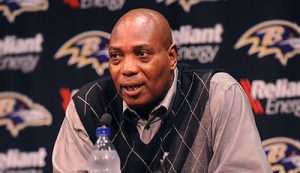 playing days and was honored with the NFL Players Association Whizzer White award for community service in 1990. Because of his excellence as a player, Newsome was one of the most beloved Browns in recent memory. Being revered in the city of Cleveland became a bit trickier when he joined former Cleveland Browns owner Art Modell to Baltimore when the Browns relocated from Cleveland to become the Baltimore Ravens in 1996.
The Pro Football Hall of Fame class of 2018 includes notable NFL greats like Randy Moss, Terrell Owens, and Brian Urlacher but the biggest name among those who will be inducted later this year is former Baltimore Ravens linebacker Ray Lewis. Although he remains a polarizing personality for multiple reasons, Ray Lewis in undeniably one of the best defensive players in NFL history and Ozzie Newsome is often largely credited for selecting both him and current Hall of Fame offensive tackle Jonathan Ogden during the Baltimore Ravens' first-ever NFL draft in 1996.
Newsome's eye for talent also led to NFL Draft selections including Pro Bowl players like lineman Haloti Ngata, linebacker Terrell Suggs, and safety Ed Reed. Reed is likely a lock to be another Pro Football Hall of Fame selection and Suggs has a case to be in the Hall of Fame once he retires.
Historically, Ozzie Newsome made history as the NFL's first African American general manager in 2002. His leadership as a player, hard work as a scout with the Browns, and football acumen led to Newsome earning the right to construct the roster of an NFL team, which is an enviable position. His success was important in showing that black former football players had the intelligence, work ethic, and ability to be a top front office executive in the NFL. Without Ozzie Newsome, current NFL executives Reggie McKenzie and Rick Smith would not be constructing and putting together NFL teams as black men in a league full of white men leading NFL teams. By winning two Super Bowl championships as a front office executive, Ozzie Newsome has set a standard that will be difficult to meet after his departure.
Staff Writer; Mark Hines