PowerWatch X Doesn't Need A Battery, Your Body Heat Keeps It Charged.
(ThyBlackMan.com) A dying battery is a nightmare for everyone who loves smart wearables, fitness trackers and smartwatches. But the PowerWatch X smartwatch has an answer. This smartwatch by Matrix doesn't need charging as it is powered by your body heat. Throughout the day your body generates electrical power and it is enough to keep your smartwatch charged. That's the simple concept behind this innovative timepiece.
The new watch sports a thin, lightweight design having 50 mm diameter, 60g weight and 13.5 mm thickness. It comes with water resistance body so you can take it 200m underwater. The display diameter is 1.2-in and there are many watch faces available for you to customize how the watch looks.
The very first question that comes to mind is what happens to the watch when you are not wearing it. Matrix Industries has answered this question with an innovative solution. When you take off your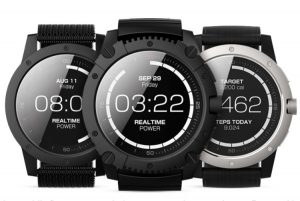 PowerWatch X, the watch goes into sleep mode and all your data is stored in memory. When you put the watch back on, it turns on immediately and shows the correct time. During the sleep mode, your watch takes a very small amount of charge so that you don't see inaccurate time whenever you wear it again.
Matrix Industries has not revealed any details about the software this watch runs on. For connectivity, the smartwatch supports Android and iOS. The PowerWatch X measures calories burned and it also accurately tracks your activity level. On its display, you can actually see how much calories you have burned. There's a step counter that helps you track how much you have walked. Its sleep tracker helps you track your sleep cycle. It's really interesting that you won't have to make any extra efforts to keep your watch charged as your body generates enough heat, and with the thermoelectric technology that heat can be transferred to your watch to keep it powered.
The X model of the PowerWatch even shows how much electric power your body is generating. The company is working on a mobile app called PowerWatch App so that you can share this data with your friends and even challenge your friends for calorie burning or power generation. Apart from offering many basic fitness tracking features, the Watch X gets paired with your Android and iOS devices over Bluetooth and offers the capability of receiving real-time notifications. The thermoelectric energy converter generates enough electric power that it can vibrate your watch whenever you receive a call.
Matrix Industries offers two watches PowerWatch and PowerWatch X. The company has also introduced a special edition watch 'Black Ops Pack' that sports same specifications as the low-end model. The PowerWatch X is available for $249 and if you go for the low-end model, you will need to shell out $199. With the new PowerWatch, Matrix has taken a smart step forward as the new watch introduces notifications making it look more like a smartwatch.
At this stage, the PowerWatch X is not a feature-packed smartwatch and it hardly touches some major areas of fitness tracking, but by conquering the challenges of power-efficient processing it has got an edge and it is one big advantage consumers get with this watch. While people are still struggling to keep their wearables alive, this watch gives a clue about a better future. The thermoelectric technology is not new but it is not one of the widely used technologies as only a few organizations including NASA are using it. Matrix Industries is working on some devices other than smartwatches and using this technology.
Many people have been waiting for solutions that can help them reduce the need for charging their devices. Matrix Industries is working on internet-of-things (IoT) sensors to make it possible. At CES 2018, the company showed some products including two devices. One of which is developed for air conditioners and another one for humidity and temperature reading.
Staff Writer; Corey Shaw
Have any Tech Tips? News? Hit up our Tech Guru at; CoreyS@ThyBlackMan.com