Why Dads Must Become the 'Counter-Chatter'.
(ThyBlackMan.com) Chatter is the rapid and incessant talk about trivial matters – most of it of the negative variety. Many relationships, companies, churches, and indeed personal lives have all been destroyed by the insidious and often bitter reality of chatter.
Negative chatter tends to have a bad effect on the way we view ourselves and our lives. If that's true for adults, then what does it do to our children?
In co-parenting relationships tinged with hostility, negative chatter is commonly used as a tool to disparage the dad. In previous articles on this subject, I've intimated that the process of co-parenting a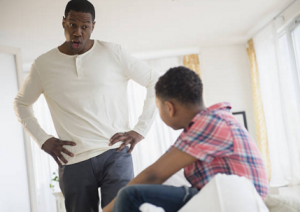 little boy or girl today is enormous even if the parents get along well. When co-parents don't see eye to eye, it's ten times more difficult to be successful at co-parenting a child.
How do we respond as dads to the negative chatter of a hostile co-parent? Dads must become, and/or direct their children toward, sources of 'positive counter-chatter'. The requisite attitude is to remain above the fray.
'Positive counter-chatter' is like the alarm system that goes off when an incoming missile is detected.
For fathers whose only priority is to maintain a viable and effective relationship with their child, negative chatter can be overwhelming. Unfortunately, too many dads give up in exasperation and exit the lives of their children or, even more regrettably, respond to these situations with threats and violence.
Here's the key: to best way to predict positive outcomes in a co-parenting relationship is to create positive outcomes. Easier said than done right? Absolutely!
We can very well become channels of positive activity – the source of integrity, wisdom and insight that our children desperately need. Here are four sources (among many) every single dad can use to become the counter-chatter.
Experience
Experience, it's been said, is the best teacher. It's important to let our kids fail at something or else they will not succeed at anything. What's even more important, though, is to apply our own experience as dads to that lesson; that we remind our kids we once faced experiences similar to their own. Our experience becomes the lightning rod for the child's success both now and into the future.
Mantras
A mantra is a statement or slogan repeated frequently; it is used as an aid for concentration. Mantras are an excellent source of counter-chatter for helping a child to remain focused. I've used mantras with my ten-year old son frequently and they have yielded outstanding results. Mantras can be adopted from positive quotes or simple phrases such as "I am responsible". The key is repetition; make the mantra part of the child's vocabulary.
Fine Arts
Fine arts have a tremendously positive impact on children. Although many public school systems do not offer fine arts as part of their regular curriculum, it's a huge source for instilling positive counter-chatter that dads should consider. Studies show that exposure to the arts increases a child's creativity – a much needed skill in today's bombastically negative environment. The arts also assist children in their decision-making, which is also crucial in developing smart responses to negative peers, for example.
Church
As a whole, church attendance is down for African American families, so it follows that children are also less exposed to an outstanding source for developing positive counter-chatter skills. I have fond memories of going to Sunday school every weekend and Vacation Bible School during the summer. It's more important to focus on the social skills, the verbal aptitude skills as well as basic lessons in morality that children are exposed to in church. For single mothers especially, church is a huge asset for rearing children in a godly manner.
Dads must become sources of positive counter-chatter!
Staff Writer; W. Eric Croomes
This talented brother is a holistic lifestyle exercise expert and founder and executive coach of Infinite Strategies LLC, a multi-level coaching firm that develops and executes strategies for fitness training, youth achievement and lifestyle management. Eric is an author, fitness professional, holistic life coach and motivational speaker.
In October 2015, Eric released Life's A Gym: Seven Fitness Principles to Get the Best of Both, which shows readers how to use exercise to attract a feeling of wellness, success and freedom (Infinite Strategies Coaching LLC, 2015) – http://www.infinitestrategiescoaching.com.