Star Trek: Bridge Crew Players No Longer Need a VR Headset: 5 Things To Know.
(ThyBlackMan.com) Star Trek: Bridge Crew can be played without VR. It means that you no longer need a VR headset to play the game as it can run on traditional TV screens. The change is applicable to both PlayStation 4 and PC versions of the game, so those who haven't purchased any of the VR headsets can now play the game. Players will now be able to use the game's controls with keyboard, mouse and a controller. So before you pilot the Starship Enterprise and explore the vast environment, here are five things you should know about the Star Trek: Bridge Crew game.
Don't skip the training
When you don't like a game teaching you how to do things, you skip the learning part and jump into the game. But if you think that you can treat Star Trek: Bridge Crew in the same manner, you should think again. The game is complicated and unique in every sense. When you are on the bridge, you need to learn controls to run your station easily. The game allows you to take four different roles and you can also keep humans in your team or you can just fill the positions with AI. There's a lot to learn, so make sure that you don't miss the training part.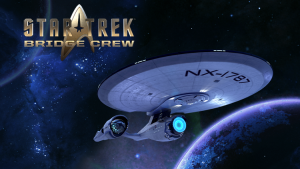 You can choose different roles on the ship
If you take up the role of captain, you will oversee the shipping status and give instructions to all the officers. Choosing this role gives you the ability to personally take over any position. If you choose to be an engineer, your role will be to manage flow of energy to specific systems and you will also be responsible for managing repairs. In the role of Helm, you control the ship and as a tactical officer, you are in charge of all the activities related to weapons, targeting, and shielding.
Non-VR gameplay
Ubisoft deployed a patch in December 2017 so that the players can enjoy the game without a virtual reality headset. According to the studio, the Vive version of the game is also playable without a virtual reality headset on all the platforms. Players can also experience the same during crossplay with VR players. The Oculus version of Star Trek: Bridge Crew supports non-VR gameplay, players will still need an Oculus VR headset to start the game. Those who do not own a VR headset but want to play the game will have to buy the Vive version.
You can play everything solo
If you do not wish to play as a team, you can of course play Bridge Crew completely solo. You can just jump between different roles and give commands to your AI crew. Most of the campaign you can beat in single-player, but the problem is if you go with very less number of crew members, you will find the game difficult and complex during stealth and especially in combats. The biggest challenge in single-player gameplay is that you will have to rely on a contextual menu to give commands to your crew because voice commands don't efficiently work here.
It's worth playing with friends
Star Trek: Bridge Crew is a game you should play with friends. If you have some good friends to play this game, it's better you ditch the idea of bringing random players on board. When playing with other members, the game makes you heavily rely on teammates which is sometimes a very bad idea especially if your teammates are slow or too serious about everything they look at. The public matchmaking is good but you never know what kind of team members you will get.
Luckily, the game supports cross-platform play so even if your friends are on different platforms, they can join you on your UPlay account.
Staff Writer; Corey Shaw
Have any Tech Tips? News? Hit up our Tech Guru at; CoreyS@ThyBlackMan.com