Nintendo Switch Exclusive Games For 2018.
(ThyBlackMan.com) Our list of exclusive games for Nintendo Switch is now bigger. Thanks Nintendo for the latest announcements. The company has confirmed more than a dozen games coming exclusively on its fastest selling console Nintendo Switch. With The Legend of Zelda: Breath of the Wild and Super Mario Odyssey, fans got many reasons to buy Switch last year, and in 2018, the company is giving more reasons to pick its handheld console. Here's a list of the biggest upcoming Nintendo Switch exclusive games.
1. Runner3
Runner3 is the latest entry in the Bit.Trip series. The game continues the traditional platforming action and also adds new quests, shop, collectibles and a new storyline. Offering the joy of rhythm-music gameplay, Runner3 is one of the biggest Nintendo Switch exclusive games releasing in 2018. The game will be available from April 24.
2. Bayonetta & Bayonetta 2
As the third entry in the action-adventure series, Bayonetta 3 will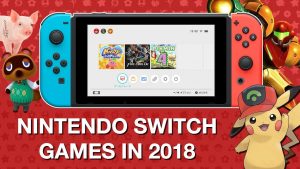 arrive on Nintendo Switch. The game has yet to receive a release window, but Nintendo's love for the series is clearly visible as the company has confirmed the arrival of the first two games Bayonetta and Bayonetta 2 on Nintendo Switch. These two games will be available on Switch in February 2018. So, get ready to punish some angels and demons with melee attacks and gunplay.
3. Mario Tennis Aces
One of the most anticipated Nintendo Switch exclusive games for 2018 is a new Mario Tennis game that brings more competitiveness to the platform. The game will feature many characters, missions, boss battles and a story mode. As of this writing, there's still no confirmation on how many players can join the matches. The game will be released in Spring 2018.
4. Fire Emblem (unnamed)
A Fire Emblem game is expected to arrive on the Switch in 2018. During the Nintendo Direct in January, the company didn't reveal any specific details about the game. Fire Emblem series brings some of the best strategy games and since long, players have been waiting for a proper console game. The best thing about Nintendo Switch is that it can be used as a home console and also as a handheld console, so expectations from a new Fire Emblem game are obviously high.
5. The World Ends With You: Final Remix
This one is going to be a graphics-rich version of The World Ends With You game. Developed by Square Enix, the game is coming to the Switch and it brings a new story scenario as well, meaning that Switch players will be able to enjoy some additional content with The World Ends With You: Final Remix. The game will be playable using traditional controls and touch screen allowing players to use the console in different ways.
6. Hyrule Warriors: Definitive Edition
One of the most-anticipated Nintendo Switch exclusive games for 2018 is Hyrule Warriors. The Definitive Edition will bring enhanced visuals and new content. The details shared by Nintendo confirmed that players will be able to download all of the game's previously released downloadable content. The content packages include missions, maps, characters, and weapons. Nintendo will release the game in Spring 2018.
7. Donkey Kong Tropical Freeze
Finally, Nintendo is adding some Switch-exclusive features to Donkey Kong. The game is highly challenging but thankfully, there will be a dedicated game mode for beginners. Players will get a new playable character Funky Kong in the game. This new character has some unique styles and abilities with a funny twist in the platforming gameplay.
8. Kirby Star Allies
The game is coming on March 16 and our playable character Kirby will be going to get a new Artist ability. Why it's so special because the new ability lets Kirby become more creative and there's one more ability called Spider that lets him trap the enemies in webs. Kirby can also throw hearts at enemies. This is a cool way to make them friends by throwing some love.
There's also a wealth of Switch games coming in 2018 that are not console-exclusives, so be sure to check out those games as well.
Staff Writer; Corey Shaw
Have any Tech Tips? News? Hit up our Tech Guru at; CoreyS@ThyBlackMan.com