LG ThinQ Connects AI-Powered Speaker, OLED TV, AC & Smart Appliances.
(ThyBlackMan.com) LG is now transforming itself into an AI company with a new brand LG ThinQ. The company introduced a smart speaker and also unveiled smart OLED TV product range ahead of CES 2018. So all the artificial intelligence powered LG products you will see in 2018 will be available under the LG ThinQ brand and there is a dedicated app which you can use to control these devices.
All the products under ThinQ will be able to communicate with each other. The products will also support third party software like Google Assistant. The company has been focusing on artificial intelligence for the last couple of years and it has also opened a lab in South Korea.
LG announced its first premium smart audio product, the LG ThinQ Speaker this year. The device comes with Google Assistant built in.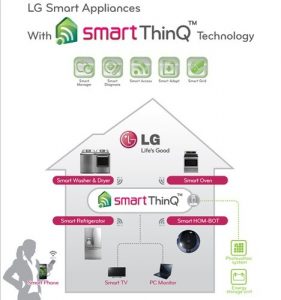 The LG ThinQ Speaker also comes with a personalized voice-activated interface that helps users connect with and control their other smart LG products including air conditioners, TV sets, and smart home appliances. You can just say something like "OK Google, turn on the air conditioner" or "turn the lights off" and get the job done without having to move an inch.
The LG ThinQ Speaker delivers excellent sound as the device uses Meridian Audio technology. You can expect high-res audio quality audio and studio recorded sound recreations from the ThinQ Speaker. LG's push toward artificial intelligence is not limited to the company's own ecosystem, the ThinQ is an open platform. It means that LG will be pushing new software update for its device and the products will get better with new technologies. Since the platform supports both the Google Assistant and Alexa, users can expect their product to support more innovative software solutions.
With artificial intelligence functionality embedded in the OLED TVs, LG is now ready to let users control their smart home appliances with a TV remote. The TV remote comes equipped with voice assistance technology and it can also function as a controller for other home products such as air conditioners, smart lights, robotic vacuum cleaners which can either be connected via Bluetooth or Wi-Fi.
The smart TVs by LG allow users to search media and information including images, videos, and specific content with the help of the dedicated remote. With voice assistant, you just need to use common commands like "show me funny videos" "show me all the Disney movies" to get the content you want to watch. LG has made sure that the TV does everything users want it to do with a remote control. You can set a timer for the TV to turn off soon after your favorite show is over. You don't need to enter specific time to turn your TV off, you can just give a voice command like "turn off the TV when this show is over".
Along with the artificial intelligence functionality, the new LG TVs will feature a new Alpha 9 processor. According to LG, all the OLED TVs in 2018 will come equipped with this processor. The chipset supports high frame rate featuring graphics support up to 120 frames per second. The processor also enables improved color correction algorithm so that the reference color coordinates can be expanded by seven times more. In simple terms, you can expect the new LG TVs to support more natural colors than any other LG TV launched before 2018.
This year, LG is expanding its product line with robots under the LG ThinQ brand. With artificial intelligence technology, LG is aiming to bring some robotic home appliances which will be connected via Wi-Fi or Bluetooth. The company is already testing its Airport Cleaning Robot and Airport Guide Robot in Korea. As far as the availability if other products are concerned, LG brings Lawn Mowing Robot, Serving Robot, and Hub Robot.
LG aims to deliver its intelligent ThinQ products for commercial and personal use. The company is currently experimenting its smart products for airports, hotels, and supermarkets.
Staff Writer; Corey Shaw
Have any Tech Tips? News? Hit up our Tech Guru at; CoreyS@ThyBlackMan.com