Huawei MateBook D Refresh Is Good but Lacks Much Needed Improvements.
(ThyBlackMan.com) Every time you look at the Huawei MateBook D 2018, you'll realize that Huawei is working hard on product design. The new 15.6-inch laptop doesn't waste screen real estate and its anti-glare glass takes good care of your eyes. The laptop sports 83 percent screen to body ratio and thickness of just 16.9mm make it the most beautiful computer we have seen in 2018 till now. The laptop weighs almost nothing and unlike the MateBook X, it doesn't feature a full-width keyboard.
Huawei understands that looks alone can't convince people to buy and the machine needs to be powerful enough. To demonstrate the product's value, Huawei has picked 8th Generation Intel i5 and i7 processors at an attractive price. Starting price of the Huawei MateBook D is expected to be around $700. The body of the MateBook D is all sturdy, and the eye-catching aluminium finish makes it more appealing than the previous models. The overall build quality is worthy of this notebook's status. Its screen is well protected, and the hybrid storage SSD + HDD combination is an impressive and thoughtful choice.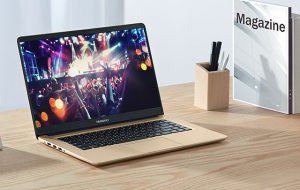 With the MateBook D, Huawei advertises the Dolby Atmos sound which is truly a great experience for laptop buyers. If you say that MateBook D speakers are some of the best laptop speakers, it won't be an overstatement. The speakers offer good sound clarity, even at high volume, you won't find noisy treble.
Other than the beauty and sound, the device is powerful in performance. It comes equipped with NVIDIA GEFORCE MX150 graphics card with 2GB DDR5 dedicated graphics memory. In the previous model, the company ships Nvidia 940MX GPU graphics card. The notebook doesn't compromise on the layout or hardware, but it lacks some basic features.
Battery life would be your biggest concern if you are choosing the MateBook D. The device comes equipped with a 43.3 Wh (3800 mAh) battery. With this battery, we can not expect the device to last for more than four to five hours after a single charge. Even you will likely need the laptop charger after 4 hours of use. This is obviously unacceptable because a little bulky device is still better if it can last a little longer than mere 4-5 hours. This is surprising that the company didn't even pay attention to improve battery life with other changes. The new processors are 30 percent faster than the processors from the previous generation, but there's still no clue about how energy efficient the new processors are and how much improvement we can expect in battery life of the Huawei MateBook D 2018 variants.
You can love the Huawei MateBook D for its looks, sound and build quality. The device is very good. But you can't use it for even the basic purposes. The laptop is thin, it brings 15.6-inch display in the size of a 14-inch notebook, thanks to its 83 percent screen-to-body ratio. It keeps eyes protected with anti-glare glass and it also does well in terms of storage capacity, RAM, graphics processing, and usability. If you have to develop a laptop on your own you will most likely build something like MateBook D because it's thin, and extremely beautiful-looking notebook. But the problem is even when it's portable, you cannot rely on its battery.
As it is clear that Huawei is working hard to demonstrate the value of its product, the Huawei MateBook D has all the internal specifications to back up the company's effort. If you want to buy the entry-level model, you get 4GB RAM and 8th Generation i5 processor with 2GB DDR5 graphics memory.  If you're thinking of buying a MateBook D, you should at least go for 8GB RAM. You won't be seeing any design changes in this year's MateBook D, but the specs are more powerful. The device runs on Windows 10 64-bit architecture, and you can choose Home or Professional Edition depending on the variant you buy.
Staff Writer; Corey Shaw
Have any Tech Tips? News? Hit up our Tech Guru at; CoreyS@ThyBlackMan.com