Oprah Winfrey's Golden Globes Speech; For Black Or White Women?
(ThyBlackMan.com) During the mentoring process, one rarely understands why they are being taught certain things. Oftentimes, one could be convinced that their mentor is insane as they seek to prepare you for a "higher purpose" as the next generation of race men/women.
There is no doubt that experience has taught the elders of our community that this next generation of black leaders must be equipped with the ability to inventively ply our craft in uncomfortable arenas. This process extends beyond readings and exposure to lectures. The most poignant way my work as a "race man" was explained to me came from Michael Eric Dyson who asserted, "Jones, when you get up on that stage, at that panel discussion, you have to let all of the 'Niggas' out like an exorcism is occurring." Of course, this was Dyson's method of reiterating what I learned long before at the foot of many elders; that being, it is imperative that I represent our people at every moment.
By the time I became a Professor of African-American Studies, I fully understood that I must not temper my words and analysis even when those in attendance would certainly consider my words harsh and inappropriate as they realized they were daggers directed at the throat of white supremacy. A worldview that has incubated whites for so long that they no longer recognize its existence.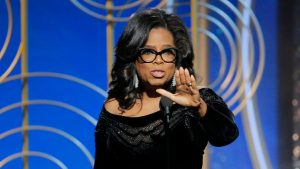 It is this understanding of how black leadership must behave in front of white powerbrokers that makes me so appreciative of the genius that Oprah Winfrey displayed at the Golden Globes while accepting the Cecil B DeMille Lifetime Achievement Award.
In front of a mesmerized audience, Oprah Winfrey offered deafening commentary regarding White America's muting of the horrific sexual assaults that black women have endured since the Jamestown Colony was established in the early 17thCentury. In a style that most black professionals recognized as "a courageous way of addressing powerful white folk when they are in the room," Winfrey positioned black women in their rightful frontline position as the foremost victims of the historic sexual violence perpetrated by the same white men that white women have loved, comforted, protected, married, and produced children with as they built a life that partially rested on the sexual and economic exploitation of Black America for centuries. Winfrey's comments were based around the riveting story of a poor black woman named Recy Taylor who was a victim of a rape by six white men who the white community, meaning men and women, hid as they considered the brutal crime to be a non-issue. According to Winfrey,
Recy Taylor died 10 days ago, just shy of her 98th birthday. She lived as we all have lived, too many years in a culture broken by brutally powerful men. For too long, women have not been heard or believed if they dare speak the truth to the power of those men. But their time is up. Their time is up.
Had the white women in attendance listened closer to Winfrey's comments they would have discerned what politically astute segments of Black America heard. They would have heard that the fact that the perpetrators of the attack on Recy Taylor were never captured speaks volumes about a white community, a populace that we must remember is majority female, that has never taken definitive action against the rape and lynching of black women. Let's be clear on this matter, it was no secret within that community regarding who the perpetrators of this or the millions of other sexual assault crimes were. There was a general acceptance among whites that the black women who worked in their homes, fields, or traveled along roads such as the one that Recy Taylor was traveling as she left church on that eventful day were so inconsequential that neither man's law nor God's providence covered them.
One must always be on guard for the voluminous impact that emotional moments have on the mind, particularly when it comes to political analysis. The site of so many well-known white actors and actresses standing in public clapping their hands in support of this latest social movement is particularly riveting for those who have been silenced for far too long, unfortunately for those who cherish this moment in time, such a display has no impact on the matter of sexual violence directed at women in general and black women in particular.
The impact of such public displays are so limited that I would suggest that those in attendance should be challenged not with the #MeToo, rather the internal introspective inducing query of #WhereWereYouAndWhatDidYouDo? when you heard your "paw-paw", "daddy", "uncles", "brothers", "sons", "husbands", "fiancées", and "boyfriend" laugh and banter about the rape of some nameless, faceless, and defenseless black woman.
As Malcolm X posited, the black woman is the most disrespected person on the planet. Historically speaking, the black woman's lack of worth in the eyes of bigoted whites throughout this nation has been cemented by not only her race, but also her gender. My question to those assembled for Winfrey's poignant commentary is, "Where was that hiding place that you were able to totally hide your new commitment to protecting black women? Or is it merely another occurrence of currying favor from an emotional audience by co-opting the latest faddish social movement?"
I hope that black women are not unduly moved by these recent expressions of female solidarity by white women. The historical record indicates that their only priority is not protecting womanhood, rather securing equality with the white males that they rival 'by any means necessary.' Unfortunately for the liberation of black women, the historical record also predicts that they will forget recent betrayals by white women political initiatives and be swept-up with emotions that lead to them yet again abandoning their political interests in favor of helping white women achieve their selfish individualistic goals. In the end, such political naïveté will guarantee that black women will find themselves in the same troubled position that they have always been, meaning cast aside, disregarded, and devoid of a single advocate beyond themselves.
So I applaud Oprah Winfrey for situating the sexual violence perpetrated against black women front-and-center where it should be. However, I am also a historian who understands that the historical record is the best indicator of future behavior and political priorities, hence, I understand that the white women who are at this present moment clapping wildly at Winfrey's commentary are the descendants of women whose moral compass made it unconscionable to report their "loved ones" for the ghastly attacks on the black women who worked for them, nursed their children, cleaned their homes, and enriched them by applying their labor for a pittance. I pray that black women will finally realize that no one, not even the majority of black men, has their best interests at heart.
Let us not forget that the black women Winfrey speaks of are the very women
(W)ho have endured years of abuse and assault because they, like my mother, had children to feed and bills to pay and dreams to pursue. They're the women whose names we'll never know. They are domestic workers and farm workers. They are working in factories and they work in restaurants and they're in academia, engineering, medicine, and science. They're part of the world of tech and politics and business. They're our athletes in the Olympics and they're our soldiers in the military.
These are the women who birthed me, loved me, cared for me, and guided me toward an understanding that I must speak on their behalf at every turn. I just wish that these women would make themselves the center of the universe that they obviously are and not rely on white women to aid them at any moment because that aid is not only unreliable but also only offered as a means to further advance a white agenda that has never been kind to our kind.
Staff Writer; Dr. James Thomas Jones III
Official website; http://www.ManhoodRaceCulture.com
One may also connect with this brother via Twitter; DrJamestJones.