Keep an eye on Eric Reid this summer.
(ThyBlackMan.com) It's official. The entire 2017 NFL regular season came and went and former San Francisco 49ers quarterback Colin Kaepernick was never signed to an NFL team. Despite his intentions to now stand during the playing of the national anthem and all the various amounts of community work he has done while waiting for serious interest from NFL teams, Kaepernick did not receive a contract offer from a NFL team. Although the San Francisco 49ers transitioned to a new head coach and front office management, many of Kaepernick's 49ers teammates resumed the protest he started by protesting during the national anthem.
The most outspoken of the 49ers who protested during the 2017 NFL season is safety Eric Reid. Interestingly, Reid will now find himself as a free agent this summer like Kaepernick did during the summer of 2017 after Reid's contract expired with the 49ers. While Eric Reid's free agency will not get the attention of Colin Kapernick's, it will be interesting to monitor Reid's suitors due to "non-football" matters.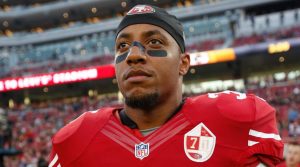 Eric Reid is a former first round pick of the San Francisco 49ers from the 2013 NFL Draft. He had a productive rookie year in 2013 which ended with Reid being selected to the Pro Bowl. It is an impressive accomplishment to make the Pro Bowl, the NFL's All-Star Game, as a rookie safety. Since 2013, Reid has been a starter for the 49ers for three different head coaches and multiple defensive coordinators, which shows his ability to adapt to different defensive schemes and philosophies.
Things changed in 2016 when Colin Kaepernick began his protest during the national anthem and was later joined by Reid along with a few other 49ers teammates. Reid has been consistently protesting during the national anthem the past two NFL seasons and has publicly criticized Donald Trump's and Mike Pence's reaction to NFL player protests. Reid also wrote an op-ed piece The New York Times last year explaining the protests.
The biggest reason that Eric Reid might experience a lack of interest from NFL teams this summer is because he has been vocally critical of the NFL's intentions regarding social justice. He was among the NFL players who recently withdrew from the Players Coalition. The Players Coalition was founded by Philadelphia Eagles player Malcolm Jenkins to collaborate with the NFL to work toward solutions to the racial inequality players are protesting during the national anthem. Reid called the NFL's proposed $89 million social justice commitment is "a charade".
Clearly, there are NFL players like Eric Reid who realize that the NFL is throwing money at NFL players to get them from protesting during the national anthem. It may cost Reid his career this summer if he is never signed even if he is a 26 year old starting NFL safety with versatility in the physical prime of his career. Unlike Terrell Owens, Reid might be unsigned like Kaepernick for reasons that have nothing to do with the ability to play in the NFL.
Staff Writer; Mark Hines