Four Ways to Maximize Your Happiness.
(ThyBlackMan.com) In his award-winning book, Happiness Is a Serious Problem, author Dennis Prager argues that we have a moral responsibility to work on our happiness; that we owe it to ourselves, our loved ones and friends to be as happy as we possibly can. I agree.
We simply cannot live a meaningful life without being happy. Happiness is a relative experience; what makes one happy makes another sad. That is exactly what Prager's point is: we must work to be happy.
We are engulfed currently in a culture of unhappy; politics, norms, institutions and places of worship are all embroiled in a national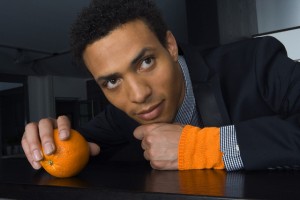 debate about what it means to be a victim and how those circumstances produce unhappy people.
I recently ran across a social media posting regarding an organization called The Secret Society of Happy People. Judging by the name, it appears happiness is a big secret, enjoyed solely by an elite group of people who gather intermittently to revel in its pleasures. It doesn't have to be that way.
One of the most common coaching screeds that you will hear is 'surround yourself with happy people'. But what if you have a hard time finding happy people? I say you must begin with the person in the mirror.
Here are four ways to maximize your happiness.
Find Someone as Happy as You
Happiness is an inside job; it absolutely cannot be discovered external to you. You will only attract the degree of happiness that you yourself exude. How do you find someone as happy as you? You become the happiness you wish to discover. Happy attracts happy. The key is not to try to make someone happy who is generally unhappy.
People have moved through different stages of their lives by the time they intersect with yours. The key is to always ask how will this person's happiness affect my own happiness?
Do Something that Makes you Personally Happy
Stake a claim in your personal happiness. Find a personal happiness project, something that brings a smile to your face the very minute you are engaged. Call it your personal happiness spot: it could be something as simple as gardening, taking a long walk or curling up on a sofa with a good book. Being happy does not always require company; in fact, it's usually the opposite of happy if it does. The point is do something that brings you a joy.
Read a Positive Word
A happy word is a positive word. A positive word is a happy word. Attaching yourself to a happy word can revive your optimism. This includes reading a great article, reading Holy Scriptures or just simply journaling. In our socially-connected media world, it's easy to find depressing news virtually twenty-four hours a day.
Change that paradigm by intentionally reading inspiring, uplifting and ennobling material to read each day. It could be as simple as adopting a 'Happy Word of the Day' and reflecting on it throughout your day.
Adopt a Cause
This is the most effective happiness-producing action you can take: find something bigger than you. I believe it springs from your having discovered something that makes your personally happy. That leads to a 'corporate' happiness; it awakens a desire within to contribute to something greater than you.
Find something bigger than you, a cause that is worthy of your time and attention and that connects you with other like-minded people. Give your best to it. If you can't find a cause, create one.
In the end, we are responsible for our happiness.
Staff Writer; W. Eric Croomes
This talented brother is a holistic lifestyle exercise expert and founder and executive coach of Infinite Strategies LLC, a multi-level coaching firm that develops and executes strategies for fitness training, youth achievement and lifestyle management. Eric is an author, fitness professional, holistic life coach and motivational speaker.
In October 2015, Eric released Life's A Gym: Seven Fitness Principles to Get the Best of Both, which shows readers how to use exercise to attract a feeling of wellness, success and freedom (Infinite Strategies Coaching LLC, 2015) – http://www.infinitestrategiescoaching.com.