Do Hall of Fame voters owe Joe Morgan and other baseball greats?
(ThyBlackMan.com) Detroit Tigers fans were extremely happy to hear the news of the newest future inductees into the Baseball Hall of Fame, shortstop Alan Trammell and pitcher Jack Morris. Both were selected by the Modern Baseball Era Committee after remaining on the Baseball Writers Association of America ballot for the maximum 15 years before their eligibility ended without election. It is definitely extremely difficult to be chosen for the Baseball Hall of Fame and due to the "Steroid Era" of the late 1990s and early 2000s, the statistics for many modern players have changed the game. Steroids, or performance enhancing drugs also known as PEDs, are a subject that rubs many older baseball greats negatively as former Cincinnati Reds second baseman Joe Morgan publicly addressed.
Few former baseball players could baseball players of the past and present as well as Joe Morgan. He played for 22 seasons and then became a TV baseball broadcaster for two decades following his retirement. He was around the game of baseball for a very long time and saw plenty of players during his over 40 years around the game of baseball. It was not very surprising when Joe Morgan decided to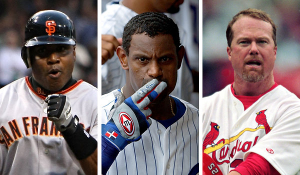 address the idea of suspected PED users joining him in the Baseball Hall of Fame. One day after the Baseball Hall of Fame released the names of 33 players on the 2018 ballot last month, Hall of Famer Joe Morgan sent a letter to voters with a list of three criteria that he felt should prevent PED users and those suspected of PED user from earning election into the Baseball Hall of Fame.
In the letter, Joe Morgan goes into interesting detail by writing, "Players who failed drug tests, admitted using steroids, or were identified as users in Major League Baseball's investigation into steroid abuse, known as the Mitchell Report, should not get in. Those are the three criteria that many of the players and I think are right." He also makes it clear that other older Hall of Fame players feel similar to him by writing, "The more we Hall of Famers talk about this — and we talk about it a lot — we realize we can no longer sit silent.
Many of us have come to think that silence will be considered complicity. Or that fans might think we are ok if the standards of election to the Hall of Fame are relaxed, at least relaxed enough for steroid users to enter and become members of the most sacred place in Baseball. We don't want fans ever to think that." Morgan has drawn a line in the sand and wants Hall of Fame voters to keep PED users and those suspected of using PEDs out of Cooperstown.
Baseball is definitely a different type of sport in terms of history. Major League Baseball definitely values and holds its older greats in very high regard. It also has a complicated history because of its racial segregation, the challenges Jackie Robinson faced, and the treatment Hank Aaron faced as he approached Babe Ruth's all-time home run record.
Writers who vote for the Baseball Hall of Fame face a tough dilemma of selecting players who deserve the greatest honor in baseball of being elected if they have been suspected of using performance enhancing drugs during their careers. Players like Barry Bonds, Roger Clemens, or Manny Ramirez destroyed record books of older players like Joe Morgan and he wants those players to be held accountable for their actions by preventing them from entering baseball's shrine of the Baseball Hall of Fame.
Staff Writer; Mark Hines