Let's Not Fight This Holiday.
(ThyBlackMan.com) The holidays are a time many come together to be with family, and partake of traditions that have been passed down for generations. Some that don't have rich family traditions may find themselves starting said traditions with their family. This is also a time whereby the weight of those we have lost in the family is heavy on the mind, and heart. For all the things the holidays can be known for…its also known for drama, and fighting. In this regard we've allowed movies and TV to paint an unrealistic picture of family interactions during holiday season.
Your holiday interaction with family doesn't have to turn into reality TV, and for many this is not the case at all. In this fast pace society families are more spread out than ever. We find many families don't have good genuine communication though there re more avenues now to communicate. This is one of the leading causes of family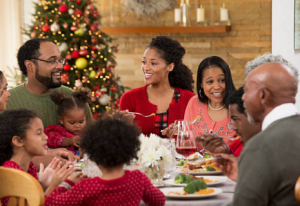 discord. It can be hurtful when your favorite cousin, or heaven forbid your sibling, shows up to the family gathering with a new spouse and baby…but no one in the family knew a thing.
Elders find themselves feeling neglected until we need them to cook, or we need to use their house to gather. Or, we have that one family member that needs to feel validated and that has caused some jealousy and envy issues. The need to be seen leads to constantly bringing up negative subjects by which they are the victim, and everyone needs to understand they are just "keeping it real".
These are just some of the issues that could be cooking leading to a holiday family gathering. However, there doesn't have to be a fight. Taking the time leading to the holidays to reach out to family can help settle the craziness. No one wants to feel the words "I miss you", "I love you", and "How have you been" come from a place devoid of sincerity. If you know you are bringing the new spouse and kid to the gathering communicate as they are not merely your family members but that of your family at large. Feeling like they are no longer connected to your joy, achievements, and monumental moments is what causes hurt when there is genuine love.
We must take the time to reach out to the elders year-round to let them know we love them, and we care. Though they are happy to see family they don't want to feel used, and neither would you. Furthermore, you never know how much time you have left with them…get all the wisdom you can from them while you can. Though we have some tech savvy elders…there are many that don't text, and they aren't on social media. We have to actually take time to pick up the phone and call them…in that moment life slows down and we are grounded in what's important in life.
As for the "need to be seen" crown…all we can do is love on them, and at times ignore them. Granted there are some that family members with deep seated issues, and sometimes keeping distance is the best option. However, know that holiday family fighting and drama doesn't have to be the norm for any of us. This is a time to come together, partake of good food, catch up, and share in love. Let your holiday focus be to spread the energy that is love, peace and joy.
Staff Writer; Chelle' St James
May also connect with this sister via Twitter; ChelleStJames.