What I Learned from Teaching African Students.
(ThyBlackMan.com) I had the wonderful opportunity to teach several virtual classes with students from Nairobits Trust located in
Nairobi, Kenya. The instructor Victor Owuor (https://www.facebook.com/victor.owuor.395) a talented and knowledgeable educator collaborated with me to speak to his students; 15 young ladies about Social Media and diverse areas of technology. The classes conducted on Skype at 1:00 am EST for my
time zone and about 9:00am for students attending Nairobits Trust their time zone.
Reaching out using digital tools integrating Twitter, Facebook and email. Sharing of information and knowledge are 21st century skill-sets that employers in most business models are looking for in a growing knowledge based society that needs employees that can read, comprehend and apply learning to solve problems.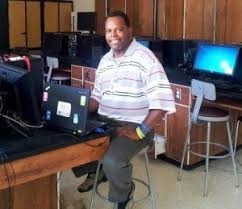 Thought leadership is a needed skill along with digital innovation and applying skills in smart creative environments. Good educators also learn from their students, it is inmany ways a two way street and the teacher is the facilitator of learning and not the owner.
Below is a list of what I learned as I taught these knowledgeable and talented African young ladies that will serve to build their homes, communities and their nation and advocates for technology implementationand integration.
What I Learned from Teaching African Students
1. Students have a passion for learning that allows them to see the potential they possess.
2. Students understand that a better life for them and their families is through education.
3. Students embrace learning as an adventure and a continuous journey.
4. Students gladly blend their learning with their goals for business and personal development.
5. Students apply learning in relation to the building of future leader's not just being workers.
6. African women are role models for future generations and pass their knowledge, passion and wisdom down to their and other children.
7. African men are becoming more accepting of women as leaders in technology, commerce, business and education. They are learning to support African women to build communities.
8. Students see themselves as being agents of change and
advocates of innovation.
9. African students accept each other and encourage, support and build each other for success.
10. African teachers are improving their skills by attending WordCamp, Bar Camp, and other conferences so they can be stronger instructional leaders.
11. Students understand the value of the Internet for learning and growth. They use it as a research tool to grow not just for foolishness.
12. Growing number of African students are advocates of STEM, STEAM, STREAM. They apply each element to their growing skill-sets.
13. African students understand that as they grown, their country, nation and continent grows as a global influencer and leader in many areas.
14. African students see technology as a way to minimize foreign investment and redirect to African re-investment and investment in their own country.
15. African students are accepting of diversity and growth and use this unity to empower nationalism.
16. Education is a generational investment. There is more to learn and also more to share, the world is changing and how students are being taught and engaged must change as well. African students have a global picture of the world and understand their place as future innovators, creators, inventors, developers, entrepreneurs and investors.
African students will be competing with American, Asian and other students for global careers that engage STEM, STEAM, and STREAM, and working hard today preparing for careers of tomorrow.
Resources:
Nairobits Trust
https://www.facebook.com/NairobitsTrust/
Staff Writer; William D. Jackson
Find out more about this talented writer over at; OCS For Education.