Upgrading To Intel Core i9: Which Processor Model Should You Choose?
(ThyBlackMan.com)  Intel introduced the i7 range of processors in 2008 and after 9 years, the company has finally brought the Intel Core i9 processors. The Core i9 features 10 cores on the lowest end with the models ranging between 10 to 18 cores. One of the most interesting facts is all of them feature hyperthreading between 20 to 36 threads. The processors also feature Turbo Boost 3.0 support. It means that there will be 2 preferred strongest performing cores in each processor instead of one core.
Intel has also introduced a processor model called Intel Core i9-7980XE Extreme Edition Processor. It is the fastest and the most powerful processor on the planet. With 18 cores, 36 threads, and 25 MB cache, the price of the Core i9-7980XE is $1999. If you are planning to upgrade your PC to i9 but not sure about which model to choose, read on to stop the confusion. You can find the individual processors for sale online, and save money by using a Newegg coupon code.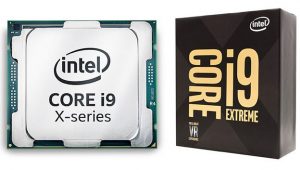 Intel Core i9 Models
Five models are available under Intel's Core X-series.
1. Core i9-7900X
The Core i9-7900X is set to have a price of $999. This microprocessor features 10 cores, maximum turbo frequency of 4.30GHz, the base frequency of 3.30GHz, and L3 cache up to 13.75MB. So from a consumer's point of view, if you want to choose the safe road, go with the Core i9-7900X. If you feel the need of a big GPU boost, you can go for the i7-7820X and save money. If you are not hesitant to choose AMD processors, you can consider AMD Ryzen 7 as a cheap alternative.
2. Core i9-7920X
The Intel i9-7920X processor offers 12-cores, and 24 threads with a 2.9GHz base frequency and 4.3GHz turbo clock. With Intel Turbo Boost maximum it can go up to 4.4GHz. If you feel that the base frequency of 2.9GHz is low, one thing you must know is what matters the most is the all-core frequency which is going to be somewhere around 3.5GHz. So even if the base clock on the processor is low, it doesn't mean that the performance won't be smooth. All the processors of the Intel Core i9 family offer too much for gaming. It's completely up to the user that to what extent they build their machines. Price of the Core i9-7920X is $1199.
3. Core i9-7940X
Even if you're doing so much multitasking and playing games on your PC, CPU 14 cores with 28 threads are too much. For heavy applications such as 3D renderings, video editing, programming, more CPU cores can effectively reduce the amount of time you spend on the tasks. Intel's i9-7940X processor does the same. It offers 3.1GHz base frequency and its maximum turbo frequency is 4.3GHz. If you want to push the limits with Turbo 3.0, it will result in 4.4GHZ which is absolutely zippy. The processor is fast, but it uses more power than the other processors. But if you are ready to spend $1399 on a processor, your chances of facing performance issues in games and other applications will be less than anyone using similar specs on a cheaper chipset.
4. Core i9-7960X
Whether the Core i9-7960X is something Intel always wanted to make or it's just an attempt to beat AMD's ThreadRipper 1950X processor, Intel once again proves that it makes the fastest processors on the planet. If you are still confused about the Intel i9-7960X vs AMD Ryzen ThreadRipper 1950X comparison, Intel is the clear winner in terms of performance. But one thing you need to know is the difference of price. Intel is asking $1699 for the i9-7960X processor, while AMD is offering a similar 16 core, 32 threads at the price of $799.
5. Core i9-7980XE
And finally, the most powerful processor the Intel Core i9-7980XE is here with a hefty price tag of $1999. The company has added 18 cores and 36 threads to this small chip and it's built for the future. Some tech enthusiasts believe that it arrived before time, and this much powerful chip is not at all needed in 2017. But there's a lot happening in the gaming industry and world of technology where virtual reality, mixed reality, augmented reality, and battle for ultra-high definition graphics are rising. Those who can spend $2k on a processor, will not regret choosing this processor because unlike mobile phones, such processors are not released yearly. For example, if you are building a PC with such powerful processor, you won't need to replace the chip for at least another 5 years and by that time, 18 cores will look less, just like how the same people want to get 3-8GB RAM in mobile phone who were satisfied with 512MB RAM.
Staff Writer; Corey Shaw
Have any Tech Tips? News? Hit up our Tech Guru at; CoreyS@ThyBlackMan.com