Netflix vs. Amazon vs. Hulu: Stop the Confusion!
(ThyBlackMan.com) Netflix vs. Amazon vs. Hulu – three leading streaming and video-on-demand services but you want to pick one. Which one do you pick? A service available at low price, a service offering your favorite shows, or a service that brings you value for money? Your selection criteria can be very wide or narrow, so here's a comparison of Netflix, Amazon Prime, and Hulu to help you choose the best one.
Netflix vs. Amazon vs. Hulu: Price
No matter what service you choose, one thing you should always remember that you should not rely completely on limited-period offers. It may not sound very interesting but all the companies bring such offers to increase their subscriber base, but what's important for consumers is how long they will receive services at discounted prices. When the pricing strategies of all the three companies is compared, we have found the following pricing details.
1. Netflix:
Basic package: $7.99/month
Standard: $10.99/month
Premium: $13.99/month
2. Hulu:
No Commercials: $11.99/month
Limited Commercials: $5.99/month (after one year it's $7.99/month)
Hulu with Live TV: $39.99/month
3. Amazon Prime:
Prime Video: $8.99/month
Prime Monthly: $10.99/month
Prime Yearly: $99/year
Netflix vs. Amazon vs. Hulu: Content
One of the most annoying things about Netflix vs. Amazon vs. Hulu battle is that their content library is vast and it's really very challenging to choose one and ditch others. There are hundreds of shows and movies available on all these services. Netflix is still at the top in terms of the number of users, but Hulu and Amazon Prime are growing rapidly.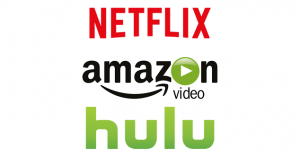 A report by eMarketer shows that Netflix still rules the kingdom, but it doesn't necessarily mean that people are not interested in Hulu and Amazon Prime. The report says that Hulu's penetration rate is nearly double in 2017. The current rate is 22% which was almost half in 2016. Consumers are also interested in Amazon Prime Videos and its growth rate is 24% this year. As per the market analysts, Netflix will continue to grow, and by 2021, the service will have almost 142 million viewers in the U.S. alone. Amazon is expected to reach 47.2 percent by that time with nearly 99 million viewers. For Hulu, the market is hopeful as the service is expected to attract 39.5 million viewers by 2021.
Best original shows on Netflix, Hulu and Amazon Prime
Netflix: Stranger Things, Bill Nye Saves the World, A Series of Unfortunate Events, Sense8, Daredevil, Voltron: Legendary Defender, BoJack Horseman, Unbreakable Kimmy Schmidt, House of Cards, and Arrested Development.
Hulu: The Handmaid's Tale, Dimension 404, Freakish, Harlots, The Mindy Project, Casual, The Path, Difficult People, The Thick of It, Chance, 11.22.63, The Wrong Mans, The Hotwives of Orlando, and Shut Eye.
Amazon Prime: Transparent, Sneaky Pete, Catastrophe, Patriot, Fleabag, One Mississippi, Goliath, Mozart in the Jungle, Red Oaks, The Man in the High Castle, Lore, The Tick, The Last Tycoon, Fearless, and Hand of God.
Exclusive content determines where the audience will go. Netflix is a clear winner here, but it doesn't mean that it is damaging the growth of Amazon Prime or Hulu. Many viewers have signed up for all of the services. The preferred choice of a large number of people is Netflix, but viewers are adding Hulu and Amazon Prime to watch content that's not available on Netflix.
Netflix vs. Amazon vs. Hulu: The verdict
For a person who wants everything on their TV or mobile devices, signing up for all three services is the best choice, but the pricing is too much to justify. All streaming services have slightly different offerings in terms of content. As the pioneer in the video-on-demand industry, Netflix plans to spend between $8 billion on content in 2018. The company aims to fill 50% of its library with exclusive original content.
If you're planning to choose only one service, choose Netflix. It is the best option, at least for now.
Reasons to choose Netflix:
1 Month free trial
Many movies and TV programs available for offline viewing
It has closed captioned programming for every English-language TV show and movie
If you want to go for a streaming service to stream what is on television right now, go for Hulu. The biggest challenge here is that Hulu is limited to the U.S. audience and if you're traveling abroad, you won't be able to stream.
Reasons to choose Hulu:
Larger catalog of TV shows
It offers full seasons of popular TV shows (both old and new)
Focused more on bringing current TV shows instead of showing what aired last year
If you're choosing a single subscription service, Amazon is a good choice if you don't care much about the originals. The company is trying its best to bring popular shows to the platform but the current offerings are less.
Reasons to choose Amazon Prime:
If you are an Amazon Prime member, you will get Prime Video for free
You can download and watch movies offline
Larger catalog of available content
When you choose a platform, make sure you understand your needs first. For some users it's the original content that attracts them, while for some, it's the availability of current TV shows. So make your choice accordingly and keep the pricing in mind. One interesting thing is that many people sign up for a service soon after seeing the number of originals, but most of the users spend time on watching back catalog.
Staff Writer; Corey Shaw
Have any Tech Tips? News? Hit up our Tech Guru at; CoreyS@ThyBlackMan.com