Kevin Durant's racial honesty.
(ThyBlackMan.com) Race is arguably the most "controversial" topic in America. Because of America's long history of turning race, which is a social construct, into something that isn't "real" into something important from a financial, social, and mental standpoint, it remains "controversial" to many people. Many people believe that professional athletes of color, like black NBA players, are able to avoid the racial stereotypes or racial hostility faced by everyday people of color because professional athletes receive adoration and great financial compensation due to their athletic abilities. Earlier this week, Golden State Warriors superstar Kevin Durant gave his very interesting thoughts on race during an article with The Mercury News newspaper.
While he was playing for the Oklahoma City Thunder, Kevin Durant was long known as a likable superstar due to his easygoing demeanor and his emotional speech after winning the NBA's Most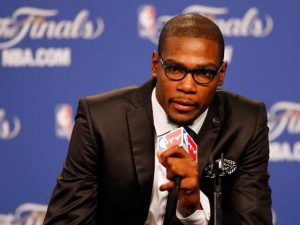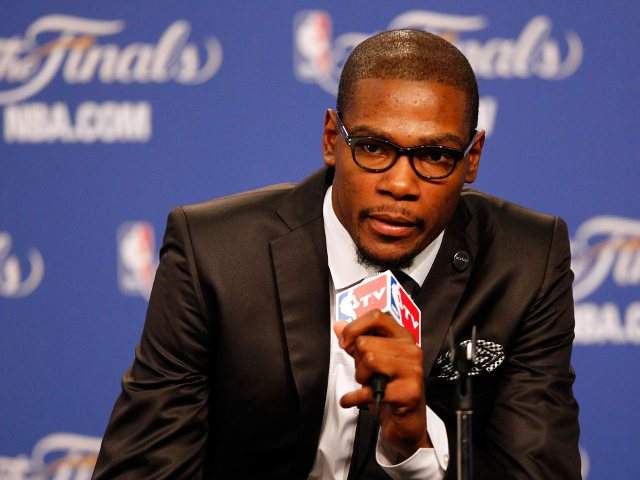 Valuable Player award while giving immense credit to his mother. Since joining the Golden State Warriors last season, Durant has become more outspoken including on social media where he has been known for getting into disagreements with people. During his conversation with The Mercury News, when asked about why he wanted to speak out about race, Durant said, "Finally waking up, to be honest.
Just kind of seeing how rough it is for an average black man, you know what I'm saying? And on top of that, a black man makes one mistake…I see how far we get pushed down. For me, I kind of grew up in this basketball world, whereas my talent kind of overrides what I look like." There have been new discussions about white privilege and male privilege and other social privileges that people receive that are unearned and Durant brings up how athletes can be treated better in some ways due to their abilities.
One of the more fascinating comments that Kevin Durant made regarding race was when he said, "I didn't have it as rough when it comes to that, as far as social or systematic oppression or any social issues. They didn't really apply to me because I could put a ball in a basket. Just me saying that kind of woke me up a little bit, like "Damn, that's all I'm good for?" Like, if I wasn't a basketball player, what kind of man would they look at me as, you know what I'm saying?". Although Durant grew up with a working class family in the Washington D.C. area, he feels that he wasn't affected by systematic oppression due to his basketball skills.
As one of the most famous faces in the NBA, Durant's words carry weight and he also credited Colin Kaepernick for his openness about race by saying, "You just see he touched something in people that we didn't know was there. I posted a picture of him on my Instagram, and the comments under that were ridiculous. The stuff that people were saying about him over that was ridiculous. He brought something out of people that they'd been hiding for a long, long time that needed to be revealed." It is very clear that Colin Kaepernick has made an impact beyond NFL players where today's professional athletes are more comfortable speaking about social issues. Kevin Durant is among the many athletes who will speak out about what is important to them.
Staff Writer; Mark Hines