6 Ways to Impress Your Boss on Your First Day.
(ThyBlackMan.com) So your discussion with the Human Resource manager ended well and now you're getting ready to reach office on the first day. You already know the basic rules to impress boss on the first day. Rules such as reaching on time, dressing well, judging people first, getting adjusted to the environment and proving everything you told during the interview. We all know those basic things and that's the common sense every employee must use. So what else can you do to impress boss on the first day? Read on to find the answer.
1. Be who you are
This is not your first date with a Facebook friend where you can fake things and disappear. If you really want to stick to the job for some time, be the original version of yourself. Don't try to pretend that you know too much, and don't play dumb when it's not at all required. You don't need to do anything special to impress your boss on the first day. Just behave like how a gentleman of your age should behave on his first day in office.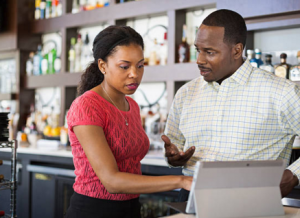 2. Know how to introduce yourself
You may have introduced yourself during the interview, but it was completely a different environment. On your first day, there are chances that your boss may ask you to introduce yourself again. Don't repeat the same speech again. Write down some new lines and change the way you want to introduce yourself. Your first introduction will leave an impression on everyone's mind and it will help everyone create the initial perception about you. So be careful about how you want to be seen by everyone.
3. Listen more, speak less
Don't remain silent all the time, but speak only when it's necessary. There are chances that you will be tempted to speak a lot about yourself, your previous work, and your boss might show interest in listening to you, but try to remain on the point. You should also be careful about how you answer questions. Don't answer everything with just yes or no. Sometimes, people want to listen more than just a boring yes or no. So try to leave discussions open for the others so that they can continue from where you left.
4. Be honest
Once again you're being reminded that this is not your date which can be concluded in any way. If you love your career and the new job, don't lie. Be honest about your previous work and everything you talk about. There's nothing wrong in sharing what you like and what you dislike. So, always remember that lying can never help anyone grow. Your boss will appreciate your honesty and your frankness. So, don't take help of lies because it's not fair, even if it brings temporary happiness in life.
5. Strive to learn
You can't become a superhero on the first day. So don't try to portray yourself as one. There are chances that everything you try to impress your boss can go unnoticed. So what? You're not there to entertain or please people. You are working because you know your skills and you know how to utilize them. So even if something doesn't go well on the first day, don't keep bad feelings in your heart. Before you are want yourself to be considered as the game changer, first learn how to play the game.
6. Don't worry about making an impression
This may sound like an unexpected advice but instead of worrying about making friends, socializing or impressing anyone, learn how things work in the organization. Focus on the process. Observe how things work and who does what. Learn as much as you can then implement it whenever the need arises.
Every successful organization needs people who are not just a part of the crowd. Keep polishing your skills, keep learning new things, prove yourself and you will never need to impress anyone by doing something which is not a part of your job.
Staff Writer; Corey Shaw
Have any Tech Tips? News? Hit up our Tech Guru at; CoreyS@ThyBlackMan.com