5 Best Gaming Laptops in 2017: Which Grabs The Attention?
(ThyBlackMan.com) If you had asked for a gaming laptop a decade ago, people would have made fun of you. During those days, laptops were meant for professionals who are mostly on the move. For hardcore gamers, customized PCs were the only solution for a limitless gaming experience.
But finding the best gaming laptops in 2017 is not a big deal. Buying a laptop for gaming purpose is a very sensible endeavor. With the arrival of powerful graphics cards, highly capable mobile motherboard units, faster SSD drives and improved transfer rate on wireless connectivity, gaming laptops are high in demand. Here's a list of some most powerful gaming laptops to check in 2017.
Alienware 17 R4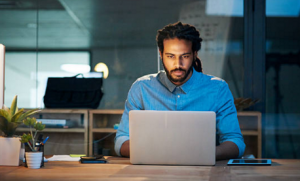 If you're looking for strong performance, crystal clear HD graphics on a quad-HD display with long battery life, the Alienware 17 R4 could be the best gaming laptop for you. The device supports many ports and also comes with a very comfortable keyboard, so if you're the one who doesn't like using controllers, the overall design of its keyboard will amaze you. The sad thing is with the lower configuration, you may see performance issues and there are several reports about the laptop getting too hot while gaming.
Razer Blade
If the low sound is not a problem for you, this is the machine you need for gaming. It's a beautiful beast that comes in a slim design, offers great graphics, excellent battery life and comes equipped with a virtual reality ready GPU. Just like the Alienware 17, the Razer Blade also gets hot when gaming. Its beautiful Chroma keyboard and attractive design make it a perfect choice for those looking for a gaming laptop under $2000.
Acer Aspire VX 15
Can you really get a good gaming laptop around $1000? If you are not allergic to Acer, you can actually get a decent gaming laptop that comes equipped with an NVIDIA GeForce GTX 1050 Ti 4GB GPU. The laptop with 7th Gen i7 processor can help you enjoy many popular games at medium to high settings. The build quality is not that great and you should not expect it to run 4K content or support VR. The best in this laptop is its price tag.
HP Omen 17
If you want 4K content to be streamed and played on your PC, go for the HP Omen 17. This gaming laptop is more about powerful specifications and less about how it looks. If you are looking for excellent graphics performance, this beast is for you. You can upgrade the specs as per your needs and customize its hardware. But why HP chose to give it a plastic lid is still a question. It doesn't look very attractive and the battery life is also bad.
Origin PC Eon17-X
The Origin PC Eon17-X is a 17-inch laptop that allows gamers to customize it in any way they want. Backed by personalized service, the laptop offers 4K display, a backlit keyboard, and fingerprint reader on the touchpad. The design may disappoint you a little bit because it's a heavy and giant-looking laptop. The biggest disappointment comes from the fans as they make loud noise. As long as you're ready to invest in a laptop, you can customize this machine.
These days gaming laptops are capable enough as sometimes they match the desktop performance. With better display quality, comfortable keyboard and reasonable price, gaming laptops are better than desktops on many fronts. Especially those who prefer portability, switching from desktop to a gaming laptop is a smart idea. There's still a visible gap between the performances, but without making big compromises, one can easily get improved gaming experience on laptops.
Popular manufacturers like HP, Asus, Acer, Razer, Origin and Alienware, Alienware, Acer, and Razer are making sure to reduce the performance gap between gaming laptops and desktops.
Staff Writer; Corey Shaw
Have any Tech Tips? News? Hit up our Tech Guru at; CoreyS@ThyBlackMan.com