Why Faith Matters.
(ThyBlackMan.com) I read an article recently which details the astonishing drop in church attendance on the part of American blacks, especially young Millennials. The reasons cited are quite familiar: the chasm between one's intellectual integrity and one's faith; the church's stated mission has become stagnant and outdated; the church is perceived as a judgmental institution. Parallel to this drop in attendance, though, are equally alarming upward trends in suicide rates, especially for black men between the ages of 25-36.
Is there a relationship between the two? Undoubtedly, in most cases I believe. Hopelessness runs the gamut of the American experience – black, white or brown. From the perspective of the African American, however, hopelessness is inextricably tied to our place of subjugation and discrimination (especially now as we enter the Age of Open Bigotry).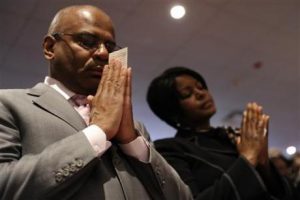 How are we to cope? For me, everything points back to faith – to what we believe, why we believe it and whom we believe in. We have degrees, we have access, we have material things, but in the end what really matters is our faith.
Faith matters to the degree that who we are and how we respond to the challenges to life depends on our relationship with a Power far greater than ourselves.
Faith Helps Us Cope With Tough Times
Someone once said, "Tough times don't last. Tough people do." Faith gives one the ability to greater cope with stress. Stress is an everyday reality; no matter who you are or where you reside, stress will meet you. We cope with stress in one of two ways, generally: one, we develop positive coping methods or, two, we turn to negative coping methods. Faith is the equalizer. Studies have found that high levels of faith commitment correlate with lower levels of depression and stress. Don't be in a position in which you deal with stress by adopting negative coping methods AND you do not rely on your faith.
Faith Contributes to Positive Thinking
How we think or reflect on our challenges determines how successfully we deal with them. Faith is an undeniable factor in how we resolve conflict and how we respond to our challenges. Many people are unable or unwilling to initiate the effort to think positive. Thinking positive requires hard, mental labor that most people simply lack the intestinal fortitude for. When you turn to your faith, though, the difference is astounding. Faith provides the foundation for turning a negative into a positive.
One of the central tenets of faith is the canon of scripture. Holy Scripture is by far the greatest source of positive motivation and thinking we could ever have at our disposal; it undoubtedly contributes to our ability to remain positive in an otherwise negative reality. Whether it's the Holy Bible, Koran or any scripture that promotes well-being, the truths offered by these ancient texts are essential to how we adjudicate our faith.
Faith Reinforces Good Relationships
Our ability to deal positively with challenging relationships depends to a great deal on what we believe. Good relationships and faith are essential to one's well-being. Who we are and how we relate to one another hinge, to a great degree, on how we understand and live out our faith.
When we come together for worship, for example, we foster good relationships through encouragement, sharing of testimonies and hugs and kisses. There is something about assembling ourselves together for worship or study that reinforces the good we bring to one another. Camaraderie, understanding, sharing and healing are all dynamics of how faith shapes our relationships with family, friends and loved ones.
Faith matters.
Staff Writer; W. Eric Croomes
This talented brother is a holistic lifestyle exercise expert and founder and executive coach of Infinite Strategies LLC, a multi-level coaching firm that develops and executes strategies for fitness training, youth achievement and lifestyle management. Eric is an author, fitness professional, holistic life coach and motivational speaker.
In October 2015, Eric released Life's A Gym: Seven Fitness Principles to Get the Best of Both, which shows readers how to use exercise to attract a feeling of wellness, success and freedom (Infinite Strategies Coaching LLC, 2015) – http://www.infinitestrategiescoaching.com.