Janet Jackson and Ciara had a Blast at Disneyland.
(ThyBlackMan.com) There is so much out there are social media portraying black women as some that just can't get along. We can't see to do anything together without there being some sort of altercation. Reality TV have us under some sort of trance that says we need to have girl fights, and usually they involve some foolishness dealing with a man who isn't worth the fight. So, imagine my happiness when I saw pictures of Janet Jackson, and Ciara at Disneyland with their sons. They looked to be having a great time, and there was no fight.
The singers took to the Magic Kingdom spending the day with their kids in the theme park. It would be awesome to see more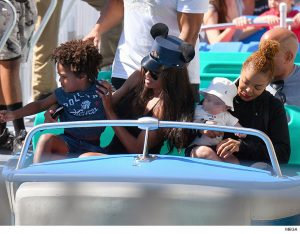 entertainers take a note from Janet Jackson, and Ciara and have fun play dates with their kids. It looks like Ciara's daughter may have been hanging out with dad as she isn't old enough to do anything in the theme park. The pictures of Janet Jackson and Ciara don't look forced or propped. It just looked like two sisters enjoying a great time with their kids. I'm loving the love this portrays.
Janet Jackson is back on stage, and we haven't seen Ciara on a stage in quite some time. I wonder what would be the odds of these two singers working together in a studio. You know you are thinking the very same thing. Janet Jackson is an amazing entertainer with electrifying choreography and stage presence. With that being said, we all know Ciara is also an amazing dancer.
While they are bonding, and the children are getting to know one another, it would be amazing if Janet Jackson and Ciara could pull off a collab. They are from two different eras, and the mix of styles would make for an amazing show. We don't have too many female artists that are putting out solid collaboration albums. Honestly, I would pay good money to see Janet Jackson and Ciara on stage together.
A positive outing in Disneyland could lead to a positive friendship, and maybe an album…and tour. Okay yes, I am projecting my wants just a bit because I think Janet Jackson, and Ciara would work well together. However, for now I'll just be excited that these sisters were able to have what looked to be a good, drama free, time with their children. Sisters can get together without a fight.
Staff Writer; Adonicka Sassy