Google Home Mini: This Entry-Level Speaker Is Google's Answer to Echo Dot.
(ThyBlackMan.com) The moment you unbox Google Home Mini, you'll see a very small companion of Google Home smart speaker. The device costs just US$49 which is almost equal to Amazon's Echo Dot. The Mini brings Google Voice Assistant, the Amazon Alexa competitor, and Google's own voice-based AI system.
The Mini comes with a fabric covering on its top, just like how speakers are designed, and there's a rubber coating at the bottom for better protection and stability on the surface. In the box, you will find a Micro USB cable, yes the Google Home Mini doesn't come with a USB Type-C, the reason is, Micro USB is a lot cheaper than USB-C.
Once you plug in the charger and turn on the speaker, four white-colored lights will start flickering. Once the device gets started, you can see the colorful lights and your device then will ask you to download the Home application on your mobile device. The Mini comes in three colors, Chalk (grey), Charcoal (dark grey) and Coral (red).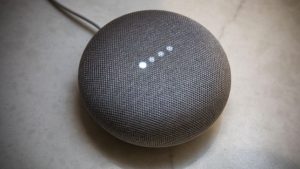 Coming on October 19, Google Home Mini Will be accompanied by its big brother Google Home Max, a big-sized smart speaker by google. You can't expect Amazon's Echo Dot to give you immersive audio experience and you are probably not going to expect the same from any smart speaker available below the 50-dollar bar. With the Home Mini, you should not expect great audio experience, but for things like podcasts and news, it is perfect. For a small room, it can give you excellent music experience and in big rooms, you can expect decent audio but not the best. The good thing is Mini also supports Bluetooth connectivity, so you can connect your Bluetooth headset or speakers and enjoy a better listening experience.
You are of course not going to listen to a lot of music on the Home Mini, but it sounds much better than the Amazon Echo Dot. Before the end of the month, the device will be shipped in more countries.
Google claims that its device is just great, but when compared to the Echo Dot, the Mini disappoints on a major front – connectivity with external speakers. There's no output jack for audio means you need Chromecast Audio for the same. The line-out jack on Echo Dot makes a big difference because it allows you to connect external speakers if you need better and louder music.
The Google Home Mini offers very simple controls. You can tap the device's top, the place where the indicator lights are located. Pause and resume can be done with a tap on its top, while volume controls can be used by tapping right or the left side of the device. You also get a switch on its back to mute the device.
One of the biggest advantages Amazon's Alexa has is the vast library through which it learns. It's huge and unfortunately, Google doesn't have any such mechanism at present. There are a lot of smart device manufacturers who wish to add Alexa on their devices, and arguably, Alexa is the first choice of all such manufacturers who wish to add a voice assistant directly into products.
The Google Home Mini is not a bad device, but it is obviously not a very strong answer to the Alexa Echo Dot. Amazon Echo devices are doing a lot better than Google Home products. It also doesn't necessarily mean that Google is too late in the game. The best thing with both the Echo Dot and Home Mini is that they are perfectly priced for the services they offer.
Google's entry-level smart speaker that does so much for the buyers is a perfect deal in itself. On many fronts the Google Assistant is more powerful than Alexa when it comes to providing other services. The Google Assistant is a better listener and provides more accurate results due to a strong voice recognition system. Additionally, the king of search appears to be more powerful than Alexa when it comes to doing many other things.
Staff Writer; Corey Shaw
Have any Tech Tips? News? Hit up our Tech Guru at; CoreyS@ThyBlackMan.com