There is no disputing the importance of Violet Palmer.
(ThyBlackMan.com) The National Basketball Association is known for being the most modern of all the American professional sports leagues in terms of racial diversity hiring. It is not surprising and expected to see men of color as NBA head coaches and assistant coaches throughout NBA franchise all over the country. In terms of front office leadership, the NBA still has some strides to make in hiring people of color but still does better than its counterparts in the National Football League, National Hockey League, and Major League Baseball.
It is also notable that the NBA has long been a leader in terms of hiring women in its male-dominated league. While the NFL has gotten credit for hiring Jennifer Welter and Kathryn Smith as assistant coaches, the NBA has been rumored to likely make history as hiring a female head coach in the NBA in the near future.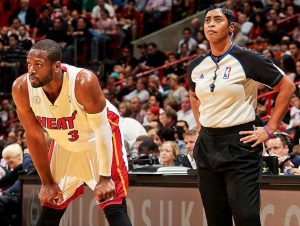 Long before Sarah Thomas graced the sidelines of the NFL as the first full-time female official, the NBA broke that barrier nearly two decades earlier with Violet Palmer and Dee Kantner as they became the first female referees to call games in an all-male U.S. major league sport. The NBA has now made more history making news with the hiring of retired Air Force Lieutenant General Michelle D. Johnson as Head of Referee Operations. Johnson's hiring is not possible without the great success of Violet Palmer.
When it was announced in 1997 that Violet Palmer and Dee Kantner would be refereeing on NBA courts, it was not received well especially by the NBA players and coaches that would be working with them. Some players like former Houston Rockets forward and current TNT personality Charles Barkley spoke against the idea of female referees by saying, "That's my opinion. I don't have to give you a reason why. I treat all officials the same–like dogs. Everybody is entitled to their own opinion. I just hope they don't have women officials. It's the principle of the thing. I wouldn't want a man doing a WNBA game."
Former Chicago Bulls head coach Phil Jackson was also had some apprehension and mentioned that, "I don't believe they could be the most qualified of all the referees out there, but I think they [NBA] want to break the barrier and that's good." But there were a few important NBA personalities who publicly supported the idea of female athletes including the NBA's greatest player, Michael Jordan, who stated, "If they can referee, they can referee, no matter what sex they are,".
Despite the attention of her hiring, Violent Palmer made sports history on October 31, 1997, as the Vancouver Grizzlies and the Dallas Mavericks took the floor and Palmer became the first woman to officiate for an NBA basketball game. She would referee for total 18 seasons and became well respected throughout her career, including becoming the first woman to oversee an NBA postseason game when she refereed Game 2 of a first-round Eastern Conference matchup between the Indiana Pacers and then-New Jersey Nets in 2006. After retiring in 2016, Palmer married her longtime girlfriend and is now working in referee operations in the NBA.
Staff Writer; Mark Hines