Jerry Jones is a Good Ol Boy.
(ThyBlackMan.com) The Dallas Cowboys may very well be "America's Team" in the sense that their owner seems to be very much so invested in the same great America as Trump. Jerry Jones doesn't care about the America his players have to live in. Cowboy stadium is a stage, and they are paid to sing and dance…I mean play. He has decided that if any player protests they will not play. Does he understand that racial injustice also exists right there in Dallas? He is not blind to the state of this nation, but if he doesn't lose money he doesn't care. Hey, the Trump can pick up the phone as let him know how awesome he is, and that he doesn't want to see a protest. Jerry the flag must be protected! Jerry Jones gave trump what he wanted…or at least that's what it looks like.
When Jerry Jones kneeled with his players that was not a true show of unity, but it looked good to fans and Trump. While the NFL is under scrutiny due to the protest Jerry Jones has solidified himself as an owner that could care less about his black players. He owns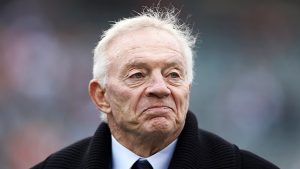 them, so to speak, and they have no identity outside of being a Dallas Cowboy.
Jerry Jones is making money hands over fist off the performance of these players. No matter how large their contract they will never match in earnings what their talents have afforded him. One must wonder what would happen if the entire team took a knee, yes, every single player on the roster. Would Jerry Jones be okay with taking the loss due to forfeit since he stated no one would play if they protest?
Jerry Jones never fooled me with his insulting display of a knee. When he took that knee he insulted, in my opinion, the reason the knee was being taken. He was an active participant in trying to change the narrative of the protest. Again, it was never about unity. There were black people saying look maybe we should just unify. Give Jerry Jones come credit because he came around to realizing that unity is necessary. He took a stance with the players against the insulting words of Trump. Is that what you thought? Jetty Jones didn't care that Trump called those players SOBs; he took notice that the other owners took a stance against the comments made by Trump.
He realized it would be in his best interest to take a stance with the owners that they will not be dictated to by Trump…or anyone else. Though this stance was made…he still allowed Trump to persuade him into giving his players demands that threatened their livelihood regarding protest. Jerry Jones has sent the message that he would support his players through most actions whereby they criminalize and demean themselves, but if they protest for a cause that could affect their life they could lose their job. If you didn't believe it, yes, Jerry Jones is a good ol boy. He doesn't care about the injustices of black people, nor his players, in this country unless it effects his money. Dem Boys have no rights in Jerryland.
Staff Writer; Christian Starr
May connect with this sister over at Facebook; https://www.facebook.com/christian.pierre.9809 and also Twitter; http://twitter.com/MrzZeta.