Game of Thrones is Gaining a Black Following.
(ThyBlackMan.com) In high school, some of us, we are often introduced to fantasy fiction with titles like "The Hobbit", and "The Lion, the Witch and the Wardrobe". Outside of school many of us read fairy tales, and many other kinds of books. As black people, we don't read just one thing, nor watch just one set kind of films or TV shows. We are a people of vast interests, and we are seeing that more in the shows that are beginning to gather a black following opening. Nothing has caught my attention like the increase in social media black chatter, and groups surrounding the HBO hit show Game of Thrones. The show began as books, that are still being written, by author George R.R. Martin.
It was speculated that the season 7 finale for Game of Thrones caused the season finale of Power to be delayed as they did not want to risk rating. This means Game of Thrones may have finally, albeit slowly, captured the mainstream black audience. It's not just the time piece enthusiasts, fantasy fiction novel lovers, black nerds that are watching. When Game of Thrones comes up for discussion the beauty shop it could be worth a look.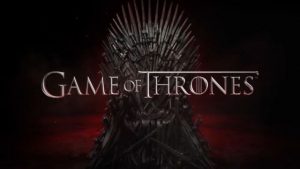 I began as a fan of the novels. There were so many different stories, and vantage points, weaved into a delicate web and balance. However, when I sat down to watch season one I began to feel like I was watching a fictional tail of the "War of the Roses"; I immediately fell in love with Game of Thrones. Granted I never expect the book, and adaptations to be the same so I wasn't disappointed. When I began raving about the show I was asked: why should black people watch when there are nearly no black characters. Well, if we are speaking from an entertainment stance there is LOTS of drama and mayhem to go around. It's very easy to get caught up in the plots, and it became know that you ought not love any character too much because even the strong characters get slain left and right. As the seasons progressed I ran into more brothers, and sisters that became fans, in part, because no character was truly safe.
Furthermore, when we began to break down the politics, plotting, family issues, and basically the battle for power (the Iron Throne) portrayed in the show some blacks began to see not only a mirror of what could be European history…they began to consider the politics of power. This is a serious discussion point with all the mayhem taking place in America. We could see the lack of judgement power tends to have, and how the those with character must fight to stay alive in a corrupt system…and they often fail. Because there is a lack of black characters we are watching the fallout of a need for power from another perspective…some could argue, minus the incest, in principle it's the same lack of judgement, and power hungry ambition we see in our leadership today.
Many of us are binge watching Game of Thrones as we anticipate the final season. The show is continuing to fuel arguments around gender, sexuality, classism, power, rights, and how they are all interwoven together. It doesn't hurt that the reality of life hence people are abused, misused, manipulated, and killed in this struggle is hammered into the viewer. We are not allowed to overlook the idea that everything has a price. Black folks are watching, and more join as the discussions continue. It has definitely been proven, in the show, that "When you play the game of thrones you win or you die", and we can all agree WINTER IS HERE. If you haven't check it out do give Game of Thrones a chance, and if you are watching the show…check out the books. Join the many of us in the discussions; you won't be sorry.
Staff Writer; Christian Starr
May connect with this sister over at Facebook; https://www.facebook.com/christian.pierre.9809 and also Twitter; http://twitter.com/MrzZeta.