3 Ways to Overcome Depression Without Medical Assistance.
(ThyBlackMan.com) There are plenty of ways to overcome depression without medicines but most of us want to rely on medical assistance. Antidepressant pills don't guarantee that you will come out of sadness and that hard-to-define feeling of losing control over life and everything. There are natural and faster ways to beat depression because that's how it came to your life.
Follow these 3 easy steps and say goodbye to depression.
1. Know the reason
When you're depressed, the biggest challenge is figuring out the root cause of the problem. Random mood swings often make us question ourselves 'I have no reason to be sad, but why am I still sad?'
Think about how it started. Did someone tell you something and you didn't like? Someone did something bad to you or you just want to be alone for no reason because you have established a thought that loneliness can keep you away from sad thoughts.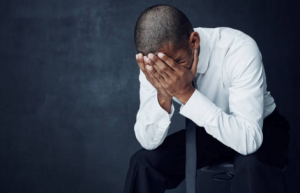 Almost 70 percent cases of depression are baseless. People simply develop a thought that they are sad and something is not right, and the layers of such thoughts get bigger. If you are one of those 70 percent people, your problem will come to an end at this first step only.
Sit and think about the root cause of your depression. It can be anything – your expectations, failure, lack of motivation, loss of control, bad financial condition, broken dreams, or assumptions.
2. Feed your spirit
So you think you are a victim of depression. Many of us consider it a disease, while for some it is a state of mind. No matter how you define depression, it's always a problem and it really doesn't deserve to be in your life. The good news is there are ways to throw it away and the second step is feeding your spirit.
We feed our body every day. Do you purposefully eat something you hate? You refuse to eat it because you know that you can cook or buy something better to eat. But most of us don't do the same with our mind and spirit. We accept thoughts in the way they are. We don't put filters and that's the biggest mistake.
Your body is just a medium to turn your thoughts into action. So, you must first take care of your spirit and your mind because if something unwanted is going inside, it will surely affect your mood, decisions, willpower, actions and eventually the body.
Positive affirmations are very powerful. Telling yourself something positive is one of the best ways to overcome depression. Tell yourself that you're beautiful. Tell that you're successful and what you are going through is now coming to an end. Think about more positive affirmations. Just like how you replace bad food with something you like, remove those negative thoughts with strong positive affirmations. Practice this every day and make it a habit. If you can stand in front of a mirror and speak loud, it will work like a charm. Do it now.
3. Embrace activeness
Depression leads to disability. Don't just sit in your room and think. Go out of your room. Get yourself something to do. It can be anything from exercise to making a cup of coffee just for yourself, do something with all your heart. If you love gardening, plant a tree, if you don't have one, go to the market, buy one and plant it today. Kick all the depressing music out of your playlist and promise yourself that you're not going to listen to it anymore. Life is too short, fill it with upbeat music.
There are many things and situations that trigger depression and you know about most of them. Kick them out of your life. Replace bad with the good. Replace negative with positive from every corner of your mind, from every corner of your house and workplace. There should be no place for bad thoughts. You always deserve the best no matter if it's for your body, mind or soul. Remember that you deserve the best and you're the best version of yourself. Don't try to control things which you can't.
Relax, just relax. Something good is coming your way very soon.
Disclaimer: This Blog Doesn't Provide Medical Advice.
The information, including but not limited to, text, graphics, images and other material contained on this website are for informational purposes only. The purpose of this blog is to promote broad consumer understanding and knowledge of various health topics.
It is not intended to be a substitute for professional medical advice, diagnosis or treatment. Always seek the advice of your physician or other qualified health care provider with any questions you may have regarding a medical condition or treatment and before undertaking a new health care regimen, and never disregard professional medical advice or delay in seeking it because of something you have read on this blog.
Staff Writer; Corey Shaw
Have any Tech Tips? News? Hit up our Tech Guru at; CoreyS@ThyBlackMan.com