Microsoft Windows Mixed Reality Headsets: Facts to Consider Before You Grab One.
(ThyBlackMan.com) Last month, there was a lot of discussion about the Microsoft Windows Mixed Reality headsets. Many people were confused about what the mixed reality is. The things became clear when Microsoft confirmed that the mixed reality headsets are just a place where virtual reality and augmented reality meet. Here's what you should know about Microsoft's mixed reality headsets and what are the things you should consider before you buy one.
Microsoft has partnered with many brands
Microsoft alone is not producing the mixed reality headsets. Many companies including Dell, Lenovo, Samsung, Asus, HP, and Acer are working with Microsoft on this technology. Many of the headsets from these brands will be available around US$349 and in November. There's no doubt about the competition getting tough for Oculus Rift HTC Vive when the device launches in November.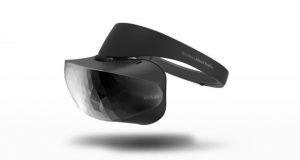 There's no fixed pricing
Just like why you don't see all the Android phones available at the same price, the Microsoft Windows Mixed Reality headsets also come with differences in technical specifications and build quality. From $300 to $400, many headsets are available for pre-order. Other than the design changes, most of the aspects of the mixed reality headsets remain the same. You might want to buy motion controllers as well and for that, you need to spend another 100 dollars.
Two modes
There are two different tiers of the Windows Mixed Reality headsets. Your PC can either be an Ultra computer or it can be Reality Ready. The Ultra and Ready are two modes depending on your PC configuration. If you are someone who doesn't want to invest more on your PC's configuration, the Ready mode is for you. But if you can spend more on dedicated graphics, higher RAM, and a better performing processor, you can experience mixed reality in Ultra mode.
Many tech enthusiasts raised questions about why Microsoft is not delivering equal mixed reality experience. Microsoft is quiet about what the company will bring for the users with low-power machines. The company hasn't confirmed what kind of experiences users will get in this tier. One thing is very clear that if you want a lot of virtual reality experience, the Ultra mode is for you.
Motion controllers are the key
If you're spending money on the Windows Mixed reality headsets, one thing is very sure that you want to explore the virtual world not just through demos. If you're buying one this holiday season, there are chances that you may get good deals on motion controllers.
Why motion controllers matter because this is a very different experience than the Oculus Rift. The external sensors are not required with the Microsoft Windows Mixed Reality headsets. Just plug into a laptop and you can use the headset without having to worry about making arrangements for USB 3.0 ports and a lot of space.
There's one more thing you will find amazing in the Windows Mixed Reality headset is that you won't have to make a lot of efforts in order to set up. Apart from making adjustments in the place, you won't have to do anything.
You can choose your setup type
You need to have a play area (free space) in the room where you want to use the mixed reality headsets. If you want to avoid the same, you can even do the same by simply setting up your headset for seated and standing set up.
If you have enough space and want to experience the virtual world at the full potential of the Microsoft Windows Mixed Reality Headsets, choose 'Set up for all experiences.' This setup requires 1.5 x 2 meters space and this is the minimum requirement set for the full experience.
Mixed Reality is a mix of virtual reality and augmented reality for now. With the Microsoft Windows Mixed Reality headsets, the company has blended both the worlds and delivering a single headset which is capable of giving multiple experiences. Now when the Oculus Rift and HTC Vive are also available at lower than the launch price, Microsoft is still a better choice in the budget as the companies like Acer are offering mixed reality headsets at a lower price.
Staff Writer; Corey Shaw
Have any Tech Tips? News? Hit up our Tech Guru at; CoreyS@ThyBlackMan.com