Trump Leave Katrina Out of This.
(ThyBlackMan.com) When I saw the footage of the island of Puerto Rico destroyed by Hurricane Maria my heart crumbled. I found myself ravaged by my own tears. Once gathering my emotions, and calming my laments to a sob, I found myself needing to pray for the people and the land. The word that was being used quite a bit was devastation, and all I could feel was catastrophic. It was imperative to find ways to get supplies to the people in need. It was as if that became a mandate…I needed to organize those in my community to give all we could to assist the people.
In that moment, when my body slowed down, I realized the federal government was going to fail these American citizens. I could have never been more correct. Trump has behaved in manner void of compassion and strong leadership. His found time to fight with the NFL, and claimed to have this catastrophic situation under control.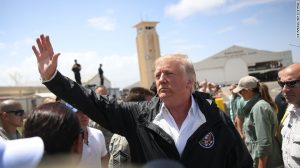 The truth is he didn't do his best in dealing with Texas after Harvey, nor Florida after Irma. He came off as completely detached. However, his manner of dealing with Puerto Rico is simply villainous.
He has the audacity to tell those people their disaster was not like Katrina: "Every death is a horror," Trump said, "but if you look at a real catastrophe like Katrina and you look at the tremendous — hundreds and hundreds of people that died — and you look at what happened here with, really, a storm that was just totally overpowering … no one has ever seen anything like this." "What is your death count?" he asked as he turned to Puerto Rico Gov. Ricardo Rosselló. "17?"
Trump Hurricane Maria is your Katrina! How dare you use our suffering to downplay that of others. You don't know what their death toll will look like as people die from lack of power whereby hospitals won't be able to render the care people need. Trump, you are NOT treating them as Americans…you are handling them as though they are burdens to YOUR wallet, and that is a disgrace. The pain these people have suffered hit me deep in my heart because I did survive Katrina. I did wade through water, and I had to pray I made it out alive. Members of my family died in the most undignified manner I could imagine, and even now in 2017 New Orleans is, in my native perspective, still in disarray.
Keep Katrina, and its devastation…its body count out of your mouth, and treat the people of Puerto Rico in a manner befitting American citizen! Trump, you are an embarrassment, and you sir are a heartless man with no character. Katrina should have never been compared to Maria; the focus should have been on getting those in leadership there every assistance you could. Instead you are busy calling the Mayor of San Juan nasty…Trump are nasty!
What does remind me of Katrina is not the death count, but the treatment of the people. It's sad that the current administration did not learn from the past. In the aftermath of Katrina victims were not treated like American citizen, and it hurts my heart to see history repeating itself. The people must realize our fellow citizens are trying to survive now, and then they must rebuild.
If the leadership in this country won't do his job, then it is up to every one of us to do all we can to come together an aide Puerto Rico. Every day I see citizens, organization, and celebrities doing what they can to get much needed aide to our fellow Americans in need. This is honestly the only way we will be able to be assured Puerto Rico gets the help it needs.
Staff Writer; Chelle' St James
May also connect with this sister via Twitter; ChelleStJames.