OnePlus 6 Release In 2018? Features & Specs We Know So Far.
(ThyBlackMan.com) One of the much-awaited updates in the smartphone world is OnePlus 6 release date. If you were waiting for OnePlus 5T release announcement, it won't likely happen anytime soon. The company has allegedly canceled all the plans to launch the mobile phone and OnePlus 6 release will take place in early 2018. If the rumors and leaked details are something to go by, the OP6 won't disappoint because it's a massive upgrade in the smartphone series. It's still early, but here's what we know so far about the mobile phone.
6-inch display
The series needs a bump in screen size and OnePlus 6 appears to be the ideal choice for this move. With the number 6, there are high chances that company will bring a bigger display size with an 18:9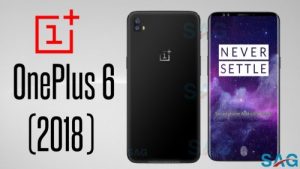 aspect ratio, as it could be a strong marketing element. If it happens, the device will most likely sport a Quad HD display with 2,880 x 1,440 pixels resolution. The OnePlus 5 with its 5.5-inch screen offers 73.0% screen-to-body ratio, but this time, we expect a big change in this particular area.
Bezel-less Design
Should we doubt the manufacturer's approach for bezel-less design in 2018? When almost every leading smartphone company has welcomed this trend, OnePlus 6 will most likely come with narrow bezels. If the phone carries a huge 6-inch display, the manufacturers will definitely try to keep the overall size of the phone small because we have seen how people begin to feel uncomfortable with big-sized phones. When the screen size crosses the 5-inch screen bar, smartphones look awkward at times, unless the phone comes in bezel-less design.
Hardware
A leak claiming that Qualcomm is making Snapdragon 845 processor led many tech enthusiasts to believe that the said processor will power OP 6. However, this phone is not the only one which is claimed to have 845 chipsets, smartphones from Samsung's Galaxy series, Xiaomi's Mi 7 and some upcoming LG phones are expected to come equipped with the same processor.
Without a doubt, Qualcomm will bring a new mobile processor next year which will be the center of attraction for consumers because only the high-end devices will get it. This year, it was the company's Snapdragon 835 that is in demand and will hold the position until a more powerful chipset arrives in the Android smartphone realm.
Now when the reports about Snapdragon 845 are coming from sources who leaked correct information about the previous processor releases, tech enthusiasts believe that OP6 will come equipped with the same and it will also come with 6 to 8GB RAM.
The OnePlus 5 also sports 6GB and 8GB RAM in different variants and this time also, we don't expect OnePlus to take RAM to a next level because it's not needed. At least not at this point. A bump in internal storage is expected and the new device will likely come in 128GB and 256GB variants.
Software
Of course, Android Oreo will accompany OP 6. The company will leave Nougat in 2017, and Google also said that all the high-end devices from leading manufacturers will be powered by Oreo. OnePlus phones don't run stock Android as the company has its own OxygenOS with some dedicated features for the company's phones. The features include custom icons, app permissions, Waves MaxxAudio support, off-screen gestures, dark mode, and camera modes. OP 6 is expected to bring all these capabilities with Oreo's newly introduced, exciting features.
Release date and Price
The OnePlus 5 arrived in June and if the company follows the same release pattern next year, we can expect OnePlus 6 release date to fall in the second quarter of 2018. OnePlus will not push the device's price to the iPhone 8 or iPhone X level, but considering this OP5 price, the new phone will most likely come with a price tag around US$600 to $700.
Staff Writer; Corey Shaw
Have any Tech Tips? News? Hit up our Tech Guru at; CoreyS@ThyBlackMan.com