5 Easy Ways To Earn Money From Home: A Guide For Stay At Home Moms.
(ThyBlackMan.com) Leading a self-reliant life is a dream of every woman. But for most of the stay at home moms realizing that dream is not a piece of cake. In fact, they work equivalent to their husband, but their physical labor never fetches them a decent salary. It's sad but an unavoidable fact! However, for a smart woman earning from home is not a challenge, but a golden chance to rebuild her career and create an identity. That's sounds interesting, isn't it? Here you have some great tricks, good luck!
1. Turn your backyard into a flower garden
Yes, you can! Having a flower garden at home is a great idea and all you need to invest is few hours in a week. You need some pots, fertile soil, a watering can and most importantly high-quality seeds, dear friend, you can pick all these items from an online store. There are three things you must bring up within yourself for this business: patience, perseverance, and persistence. No doubt, it will take time,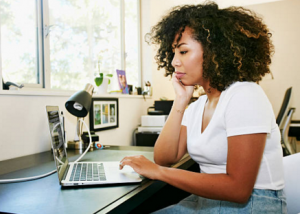 but the outcome will never disappoint you. No matter what the season is, flowers are always in demand. Can you afford a website for your small business? If no, don't worry, you have several ways to publicize your business without spending a penny. For example, print a pamphlet and distribute it in your neighborhood or create an eye catchy social media page for the business. In the US market, a flower bouquet costs not less than $50! When your plants are all set to surprise you with beautiful flowers, you will definitely have a buyer at your doorsteps with a fat wallet.
2. Be the Master of Social Media
Do you have a social media account? This question may sound mindless. In this digital era, hardly you can find a human being who has no interest in peeping into his Facebook page at least once in a week. Thousands of people around the world have been using social media platforms and earning too much every day. Make a place among them, but be unique! On social media, you can promote the top brands and get money for your work, some companies are ready to you instantly! Usually, companies look for a person who has a big list of friends on social media and also too many followers. Remember, your social media skills may take you to the position of the social media manager of a multinational company, and you can see the world from your windows! Well, what will be your tasks? Write captivating small posts for products and share on companies social media profiles. Of course, each post will kickstart a discussion among the customers and you will be the moderator there. Appreciating their feedback, proving more information as well as clearing the doubts will be your duty. Sounds simple? Yes, it is.
3. Create a YouTube Channel
Are you a good cook? Or someone with a lot of knowledge about weight loss? Start sharing your knowledge and YouTube is the right platform for you. Create a channel for yourself and choose an area of expertise. In fact, to become a tutor you don't need a Master's degree in English literature or years of teaching experience. There is a huge demand for online English tutors in the Asian countries, make sure you will create a brand for yourself on YouTube. Creating videos on useful topics and maintaining consistency will bring millions of subscribers to your channel. After adding Google AdSense to your channel, you will start receiving revenue every month! This may be sounding unrealistic to you, but checking some of the YouTube channels and their popularity will leave you speechless!
4. Pen down your thoughts
You don't need to be a high-profile writer to grab some great writing projects on freelance sites. Basic writing skills, ability to unleash creative thoughts and more importantly commitment to deadlines, that's all you require to establish yourself as a writer in the world of internet. While choosing the writing projects, you can prefer your favorite streams and contribute your best to the work. Starting your own personal blog is also a brilliant idea, but you must have a perfect plan. You can sell your blog articles or just install Google AdSense and get paid for clicks on ads that appear on your blog.
5. Help people and make money
Yes, the job of customer service agent! Multinational companies have great opportunities for native English speakers and you may be the right fit for one of the vacant positions. Buy a good quality headphone and arrange a room for yourself in your home because you must keep yourself away from noise while having a phone conversation with clients, what else you may need? A notepad, a personal computer or a smartphone, and of course a smile on your face, remember, you will encounter different types of clients every day, in order to deal with them one needs a lot of patience. Some companies allow customer service agents to choose the work schedule as per their convenience. You can devote time to your work while your toddlers are at school or your baby is taking his nap. So, no compromise with child care and at the same time, you will get a chance to cherish the life as a self-reliant woman.
Most of the women bid a goodbye to their career soon after tying the wedding knot or welcoming their first baby. But women with strong determination will find an opportunity in each and every phase of their life. "Success is not the key to happiness. Happiness is the key to success. If you love what you are doing, you will be successful," said German Theologian Albert Schweitzer. So, take up a job that you love and no doubt, Success is waiting on your path, Kudos!
Staff Writer; Corey Shaw
Have any Tech Tips? News? Hit up our Tech Guru at; CoreyS@ThyBlackMan.com