Your Right To Protest – Even In The NFL.
(ThyBlackMan.com) Does any American citizen have the right to peacefully protest? Hell yes, that is a fact, a right and the law. Protesting also includes freedom of speech, yet another right we are guaranteed. So it amazes me when people want to squash or criticize your right to protest. How dare they tell you when to do it and where? If they do not want to protest, they do not have to. If they want to say a pledge or stand for an anthem, so be it. You are not telling them not to stand so what right do they have to tell you that you should? None, none at all. Double standards neither have the power not the authority to override freedom of speech and the right to peacefully protests. Freedom of speech is not for people to agree with you, it's often because they don't. Protests are not for when your neighbor thinks you should.
THIS COUNTRY TALKS ABOUT GOD AND EVEN REFERENCES HIM IN PRAYERS AND ON OUR MONEY SO THERE IS NOTHING BUT HYPOCRISY IN TEARING DOWN CITIZENS WHO GET DOWN ON THEIR KNEES.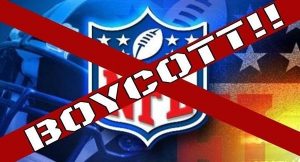 America was founded by "protesters". England called them traitors. The indigenous people of this land first called them friends then invaders then murderers. The captured African slaves called them master. But America praised them and called them "founding fathers" and hailed them as heroes. Those who founded this country left England, at least in part, because they were in disagreement with the actions of the crown (the leadership). They protested but it did them no good. England was not changing things and England was not having it. So remember America, your founding fathers (Also Protesters) would have been executed as treasonous traitors of the crown of England if they had they lost the war.
ITS EASY TO SAY WHAT SOMEONE SHOULDN'T DO IF YOU THINK IT DOESN'T IMPACT YOU
People against protesting do not have to agree. The very foundation of protesting is based on disagreement so why would so many people who disagree with a protest think they are right to want it shut down? Ask them what they suggest as a solution to address concerns like racism and police brutality. If they in fact even offer solutions instead of denial, the solutions will likely be soft, passive, make little impact and cause little to no change. These same people will likely stand against rallies for social injustice and deny the problems even exists.
Why? Because of one or more of 4 reasons.
Reason 1 – they do not care because they do not believe racism and police brutality impacts them.
Reason 2 – they support racism, censorship and discrimination.
Reason 3 – they believe those who claim to be victims of racism and police brutality actually deserve it.
Reason 4 – they are in denial about how bad the problems actually are. They want to deny the problems exist. I would also bet many of these people are also Trump supporters or even African American traitors like Ben Carson, Herman Cain, Amerosa, Stacey Dash and Jesse Lee Peterson. And I say this as an African American conservative but not at all a Trump supporter.
People speaking out against protesting in general (and the NFL protesters specifically) are people who do not understand the right to freedom of speech. The thinking of these people would still have us drinking at colored water fountains, picking cotton and riding in the back of the bus – or worse. And sadly many of these people are brainwashed Cointel pro coons who have forgotten who they are. They have forgotten their rights have only come about as a result of the struggles, protests and very lives and deaths of courageous protesters.
"SOMETIMES THE BEST WAY TO TAKE A STAND AGAINST INJUSTICE IS TO GET ON YOUR KNEES……."
Americans who want to stop NFL protesters are the same Americans who want to ignore or deny racism and police brutality. But thanks to racism rearing its head at the election and terms of the first African American president and coming all the way out of the wretched closet when our current President (Trump) supports and employees racists while promoting police brutality, we see clearly. But the genie is not going back in the bottle and those who seek to defame, degrade or silence protesters are not going to be able to close Pandora's box. This country's dirty little foundational secret is on the minds and in the faces of those who have tried hard to hide it.
You have likely read my many articles written about police brutality. It is an epidemic that the media, the police and our government refuse to acknowledge. It is a sickness, an infection that spreads through the mentally ignorant disease called racism. Go to www.killedbypolice.net or visit www.policemisconduct.net and see for yourself. People often get tired of me talking about it. But that is because they do not realize how widespread it is. Street protests, rallies, vigils and marches are not enough to keep police brutality in the forefront until real steps to end it are taken nationwide. Therefore any and every peaceful, lawful method of drawing attention to discrimination, racism and police brutality must be employed.
When is the time? Every time possible? Where is the place? Any place legally allowable. If we let those ambivalent, in denial or supportive of racism and police brutality select the time and place to protest, it would never happen in a place, at a time or in a forum that would ever make any difference. Therefore I support and commend every single player and owner in the sports industry who is taking a stand in protest. And ironically sometimes the best way to take a stand against injustice is to get on your knees, humbling yourself before He who has the power to bring about real change of heart, mind, actions and attitude. Use every right you have, any time you can, any time you feel you need to. If you don't, you may wake up one day and not have any.
Staff Writer; Trevo Craw