Fitbit Ionic Smartwatch: Best Features, Accessories & Technical Details.
(ThyBlackMan.com) Coming on October 1, the new Fitbit Ionic smartwatch is meant to pose a strong threat to the Apple Watch Series 3. The good thing is, this watch costs US$299.95, while the Apple Watch Series 3 with GPS and cellular features costs hundred dollars more. There are some obvious differences between the two watches and both of them have some unique features to justify the difference between their price tags. So, if you are thinking of buying a smartwatch and Fitbit Ionic is on your radar, read on to check what you're going to get with this smartwatch.
The Fitbit Ionic smartwatch is the best device Fitbit has ever made. The watch works perfectly as a fitness tracker and also brings all the features of a smartwatch. With a combination of the features of Fitbit fitness trackers and the Blaze smartwatch, Ionic is the most thought-out device Fitbit has ever developed. Customization of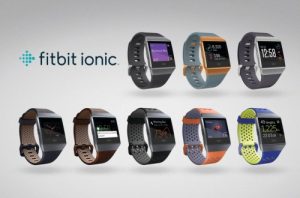 watch is how everyone expected. You can choose from sport, classic and leather watch bands and each of them gives unique style to the square-shaped watch.
When you're not exercising, you will still want to wear it. This is Fitbit's first device in which a third party app store is available. In an attempt to make a strong eco-system of devices (just like how Apple has done with its smartwatches and other gadgets), Fitbit is also enabling this smartwatch to connect with other devices available under the brand. Alongside the watch, Fitbit's new wireless headphones, known as Fitbit Flyer are also coming on October 1. More information about the Fitbit Flyer is available below, but first, have a look at the performance of the Fitbit Ionic smartwatch.
The Fitbit Ionic watch is waterproof to 50 metres and comes with a wristband flexible elastomer material which is durable as well. The buckle, just like many other smart watches is made from surgical-grade stainless steel. Ionic is a great tool with enhanced swim tracking features. There's a dedicated Swim mode that provides you data by recording laps, burned calories and stroke style. For users in regions where Joules is used in place of calories, people will find it hard to get familiar with the smartwatch, especially the users from Australia. The watch doesn't offer data in joule unit.
The SmartTrack feature automatically recognizes the user's exercises and records the data in the Fitbit app. There are many modes dedicated for activities like running, riding, weight lifting and hiking. The built-in GPS helps the users track the key stats. For enhanced GPS tracking, Fitbit has placed the GPS antenna into the watch case. The company claims that using GLONASS, and this integration help the watch receive stronger satellite signals that means more accuracy in tracking data.
The Fitbit also allows Ionic users to store around 300+ songs in the device. Additionally, you can play music from Pandora Plus on the Fitbit Ionic smartwatch. For those travelling to remote locations or simply planning a workout schedule fueled with music, Ionic could be a great choice. The watch supports connectivity for wireless Bluetooth headphones such as Fitbit Flyer. With around 6 hours of playtime, Flyer is a sweatproof headphone with music and call controls. It sports a dual microphone setup and also supports Siri, Google Assistant and Microsoft's Cortana.
The Fitbit Ionic comes with a built-in NFC chip, meaning that you can make payments right from the wrist. The Fitbit app offers options to add your credit and debit card details to make payments through near-field communication feature. In most of the places, contactless payments are being accepted, so in case if you are out early morning and do not want to carry your wallet, this feature can save you. As far as the availability of other sensors is concerned, the Fitbit Ionic smartwatch has a built-in altimeter, compass, heart rate monitor, light sensor and accelerometers.
Staff Writer; Corey Shaw
Have any Tech Tips? News? Hit up our Tech Guru at; CoreyS@ThyBlackMan.com