Eminem May Drop a New Album this Year.
(ThyBlackMan.com) Finally, it seems that Eminem fans will get a new album this year. Though it is merely a rumor to some there have been hints that Eminem is about to grace his fans since 2016. One can be left to wonder what topics Eminem will spit about on the new project. Granted I respect him as an artist I admit I'm not the biggest fan. I have my favorite Eminem tracks like "Stan" but honestly, I have never been able to listen to an entire album from start to finish and love it.
The main problem for me is what feels like redundancy. Before you jump on my case I don't value that trait in any artist as I get bored easily. We know about Eminem's mom, ex-wife, and daughter. We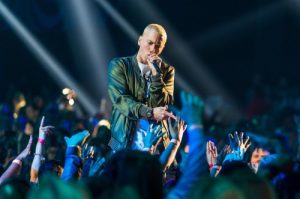 know he can battle rap and hold his own. Anyone who watch 8-Mile has an idea of what you are dealing with when listening to Eminem.
It would be wise to assume that he is deeper than the surface description or what we've heard at the beginning of his career. Life has a tendency to change us over time, so I'm wondering what he will have to say. Dr. Dre hasn't been a major component of Eminem's production throughout his career, and one can be left to wonder if they will come together on a couple tracks for this album. We may also get a greater look at what artists he's feeling…maybe they will be featured on the album.
Then again, the album may have minimal to no features. There is a rumor that Wale may appear on a track…but that is to be seen. What I want to know will his flow be the same? Will be animated on this album? Will he be reflecting on his career? Of course, we can wonder if he will touch on the social and political climate of this country. Hey, anyone can comment on social issues these days as they are totally beyond what many are used to.
Some fans will be hoping for an evolved Eminem. Should the album drop this year I will be open minded and listen to the entire album in one sitting. I know the production will be amazing, and there will be conversation piece tracks. I'm just wondering if I will finally be able to say I loved an Eminem album from start to finish. Hopefully we will get to engage in new music from Eminem this fall.
Staff Writer; Adonicka Sassy