Portable Table Saw Buying Guide.
(ThyBlackMan.com) A portable table saw is one of the key items for trade or professional woodworkers. Having the ability to reliably perform a multitude of different tasks like cross-cutting, ripping and sheet material preparation, the right portable table saw is a must-have workshop tool, especially if you're a woodwork contractor handling projects in different locations.
Buying the correct portable table saw for your woodworking applications is important. You need to be sure that it's accurate and has the appropriate capacity and strength. Here's what to look for in a portable table saw.
A Flat, Smooth and Strong Table
Whatever type of portable table saw is chosen, the table is the centerpiece of your woodwork. It should be smooth, strong, flat and sturdy enough. Buying a portable table saw doesn't mean being limited to just simple woodwork. Although built to be lighter and easy to carry around or transport on a truck, portable table saws are designed to be reliable just like the bigger contractor table saws.
Checking to be sure that the table saw offers an accurate surface for your work is important. Portable table saw ridgid r4516 review, recommends that you personally check out each portable table saw before buying to be sure that there are no hidden flaws or unspoken defects.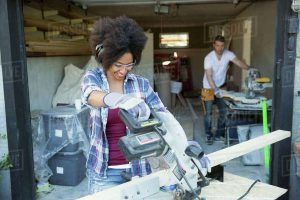 When it comes to ensuring efficient functionality, a portable table saw needs to have easy and accurate adjustments. This is what ensures safe use and reliable operation. It's necessary to check whether the table saw offers accurate adjustment of the blade height as well as angle. Precise blade rise, fall and tilt are important to ensure perfect woodwork.
From the trunnions that support the motor and saw unit to the cast iron that is the perfect fit for added weight, the right portable table saw should come with strong and rigid construction. Depending on your type of woodwork, it's important that the table saw provides the strength needed to carry the weight of the motor as well as the saw blade adjustment mechanisms.
A rigid construction that is machined for accurate and smooth operation ensures there's no vibration during operation, while also providing added support. A good table saw should have the right features to match the power and capacity to your needs.
Portable table saws come with different designs. While the design is focused on portability, you need to choose a table saw that is easy to move around. For instance, if you're doing woodwork on a busy construction site, there's a high possibility that you'll have to move from one place to another frequently. It can be quite challenging if your table saw doesn't have hand grips or wheels.
What you want is a portable table saw that is lightweight enough to carry with your hands or a wheeled one that makes pulling easier while promising efficient work.
With so many brands to choose from, it's easy to assume that every portable table saw you find is pretty much the same. What you want is a superior company that manufactures table saws that last for many years. Considering the high cost of buying main woodwork equipment like table saws, it's wise to purchase a table saw that is designed to offer years of great service.
A portable table saw is a necessary tool for the production of excellent projects, so durability should be one of the main aspects to consider, especially for professional woodworkers who rely on portable table saws to complete projects fast.
Safety is one of the biggest concerns when it comes to the use and operation of table saws. In fact, an estimated 31,400 people are treated in the ER every year from various table saw injuries. The majority of these injuries are as a result of kickback.
Ensuring that the portable table saw you want to buy comes with the right safety features is critical. These include anti-kickback pawls, blade guards, blade brake, a large, paddle-style switch, riving knife and additional features like longer fence rails for wider cuts. Wearing protective wear like gloves and safety glasses is also recommended.
Dust collection capability must be considered when buying a portable table saw. This is particularly important if you're a remodeler or carpenter frequently working inside residential homes or commercial buildings. A table saw that comes with a dust collection port and a reliable and effective capture system is highly recommended.
Keep in mind that a portable table saw will only be as good as the blade will allow. Ensuring that you get a high-quality blade for your well-built table saw ensures excellent results. Remember that the right portable table saw should provide precise accuracy and durability.
Staff Writer; Latasha Wall