Why Do You Need a VPN for Your PC?
(ThyBlackMan.com) Being a frequent internet user, you must have come across the word 'Virtual Private Network (VPN). VPNs aren't relatively new in the market but recently they have been getting a lot of limelight for both online privacy and security reasons. With recurrent episodes of cybercrime, stories of hackers making rounds on the internet and news, and ISPs getting permission to freely use and sell your online data as well as internet habits to the companies to make money, you may be considering a VPN for your PC to keep your online data secure. Here's what you need to know all about a VPN.
What is a VPN?
VPN is regarded one of the best online security tools to have developed for the online privacy. Consider VPN as a secure tunnel that allows your internet traffic to route through a remote secure server, making you appear anonymous on the internet. VPN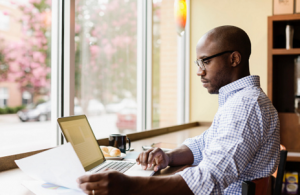 basically acts as a secure tunnel between your electronic device – be it PC, laptop, or tablet, and your internet connection and hides your IP address. Not only the IP address, it also hides your identity and location. It tricks the other websites into believing that you're connected to them through a different server, a different region. A VPN works on all the platforms including PC, laptop, mobile phones, and tablets. In fact, a Windows 10 VPN can be set up effectively on your computer.
When your PC is connected to a VPN, all your online data that passes through the secure tunnel becomes encrypted. We must tell you that encrypted data is hard to intercept. Even hackers take a lot of time to intercept the encrypted data and most of the times they notably fail. Therefore, if your internet connection is guarded with a strong encryption power, nobody can monitor or track your online activity, not even your ISP. Only your VPN provider will have the knowledge of your whereabouts.
Why Do You Need a VPN?
With the increase in cyberattacks and other online criminal activities, it's time you took your online privacy quite seriously and paid more attention towards securing your internet habits from the prying eyes. Of course, the use of VPN is beyond protecting your online privacy. Some of the reasons why you need a VPN have been listed below:
·         A VPN makes all of your online activity anonymous on the internet, thus not allowing anyone to monitor your web activity or track your web browsing habits.
·         A VPN does not let anyone eavesdrop on all your online communications even when you've connected your device to your home or office internet connection.
·         This online security tool is quite useful when you're traveling abroad and want to connect your device to the public Wi-Fi connection. Since public Wi-Fi hotspots are more prone to cyberattacks, therefore it is recommended to always use a VPN before getting connected to them.
·         Some websites such as Netflix, Hulu, HBO Go, etc. have geo-restrictions imposed on them and cannot be accessed if you're not residing in their country. A VPN helps bypass geo-restrictions and gives you access to stream your favorite content
·         In some countries such as China has imposed a Great Firewall and blocked websites such as Facebook, YouTube, Twitter. A VPN circumvents the blocking and allows users to gain access to these websites.
·         You can also safely download torrents on the internet with the help of a VPN service.
All in all, a VPN, equipped with robust encryption, offers complete internet freedom and online anonymity to the users who seek online privacy while using the internet. If your online privacy is valuable to you and you need to ensure your security then you should get a VPN for your PC as early as possible. It's better to start with a free VPN service especially if you're not tech-savvy. Once you have enough know-how of this tool then you can also opt for a premium version to benefit from its additional features. Before you decide to get a VPN service, just keep in mind that you opt for the one that does not keep logs of your online activity. By going through the VPN's terms and conditions you will be able to find that out.
Staff Writer; Ronald Ford