Professional athletes are not immune from profiling from the police.
(ThyBlackMan.com) It is not surprising that the police are viewed differently by white people in general and black people in general. There is significant gaps in how both racial groups view police performance in their communities. According to Pew Research Center, about a third of black people say police in their communities do an excellent or good job in using the appropriate force on suspects, treating all racial and ethnic minorities equally and holding officers accountable when misconduct occurs. This is compared to about three-quarters of white people who feel the same way in regards to the police.
The protests and emergence of groups like Black Lives Matter have brought more national attention to the police profiling and police brutality that people of color have faced and continue to. Sports figures have also been a large part of the national discussion about police behavior but it is important to remember that even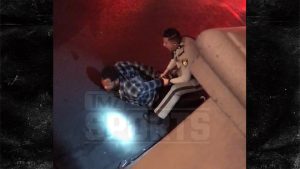 professional athletes can be victims of the police misconduct that they are speaking out against.
Seattle Seahawks defensive end Michael Bennett has been a vocal and public proponent against social injustices recently. He has never been shy to speak his opinion about a variety of different topics and he recently shared on social media that he was physically intimidated and assaulted by the Las Vegas Police in late August following the Floyd Mayweather and Conor McGregor fight. Although Bennett stands 6'4 and weighs about 270 pounds, he said he felt "terrified" and "helpless" by the police encounter in which he said he was told to lie down, was handcuffed, and kneed in the back. His situation is a potential legal matter.
Former professional tennis player James Blake, who is biracial, was tackled and handcuffed by New York City police officers outside of his hotel in New York in 2015. The situation was a case of "mistaken identity" where Blake was taken to the ground, handcuffed, and detained by the NYPD despite being a retired former professional athlete for only two years. Blake sued, but withdrew his claim and requested that a legal fellowship be created in his name, to provide resources to strengthen the police misconduct agency. Following his incident with the police, James Blake has become a social activist.
Police profiling of professional athletes while driving can happen as well. Last month, NBA guard Anthony Morrow said he was pulled over without cause during a traffic stop. Morrow said he went to pick up his 8-year-old daughter and during a traffic stop he was frisked and had his car searched by drug-sniffing dogs. Despite searching the car, the police found nothing and Morrow said he felt "degraded".
In the cases of Bennett, Blake, and Morrow, it is clear that their fame and fortune as professional athletes did not shield them from the issues many people of color face regarding the police. Police brutality and police profiling against people of color has been a longstanding problem in America even if it seems like a new phenomenon for some. The great Dr. Martin Luther King, Jr. addressed it during his 1963 I Have A Dream speech by saying, "We can never be satisfied as long as the Negro is the victim of the unspeakable horrors of police brutality".
Staff Writer; Mark Hines