Is Byron Leftwich the next emerging, young black head coach in the NFL?
(ThyBlackMan.com) The 2017 NFL regular season is upon us. While plenty of people are disappointed with the NFL's handling of Colin Kaepernick, reactions to player protests to the national anthem, and some of the domestic violence issues with some NFL players, there are other positive stories with NFL players assisting with Hurricane Harvey and women getting the long overdue opportunity to coach in the NFL.
Arguably the two biggest leadership positions in the NFL include being an NFL head coach and an NFL starting quarterback and the NFL has made inroads in the diversity of both positions which have historically been led by white men. There are as many minority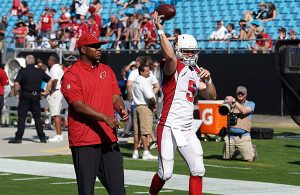 starting quarterbacks in the NFL as ever and this offseason saw the hiring of two more black NFL head coaches among the six NFL head coaching openings following the 2016 NFL season. One young coach, Arizona Cardinals quarterbacks coach Byron Leftwich, has the knowledge and temperament to be the next upcoming NFL head coaching talent.
Byron Leftwich has become an NFL coach after a nine year NFL career in which he was a first round pick in the 2003 NFL Draft. One of the more intriguing things about Leftwich becoming a coach with the Arizona Cardinals is that he will be coaching one of his peers from that 2003 NFL Draft, starting quarterback Carson Palmer. Palmer is a couple of weeks older than Leftwich which is a bit unusual for a player to be older than the person he is being coached by. But the hiring of a young coach like the 49ers' Kyle Shanahan and the historically young Rams head coach Sean McVay have opened the door for young coaches getting big opportunities right away in the NFL.
It will be easy for NFL players to give respect to Byron Leftwich based on his leadership. He was a terrific college quarterback at Marshall University who garnered widespread praise in football circles during his senior year when he returned to a football game after breaking his left tibia. The image of Leftwich being carried his offensive linemen to the line of scrimmage to snap the ball is one of his legacies in football. NFL players can question Leftwich's age as a new coach but they can't question his toughness as he played his senior season with a metal rod in his leg.
The football acumen of Byron Leftwich is highly respected by the man who brought him to Arizona, Cardinals head coach Bruce Arians. Arians coached Leftwich back in 2008, when Arians was the Pittsburgh Steelers' offensive coordinator and Leftwich was the backup quarterback of the Steelers. As one of the best coaches in the NFL, Arians is viewed among the top offensive minds in football and he has been a big advocate for Leftwich by saying, "he'll be a head coach early and fast".
Despite the fact that Leftwich is only a quarterbacks coach right now and not an offensive coordinator, he could be on the fast track to being a head coach like current Los Angeles Chargers head coach Anthony Lynn, who spent only one year as an offensive coordinator before being hired as a head coach. The future could be bright for Byron Leftwich.
Staff Writer; Mark Hines