Dick Gregory Told Unfiltered Truth.
(ThyBlackMan.com) It is with a heavy heart that we heard Dick Gregory passed away from this earth on August 19, 2017. He was not merely a comedian. Dick Gregory was a fierce activist that was not afraid to call this country, and world, as he saw it. In his 84yrs he had seen great leaders rise only to be murdered, and he would never shy from calling the oppressor by its name. Granted there were those that merely excused him, especially as he got older, as a conspiracy theorist, but if one had the courage to hear what he had to say you would begin to realize he warned us of so many evils.
He spoke what many of us may have merely wondered, but wouldn't dare entertain. Dick Gregory used the platform he had, comedy, to speak truth. He was not afraid of those that would try to oppress him. One of the greatest lessons we can learn from this him is to tell the unfiltered truth. No matter what we do we will be seen as a threat that needs to be neutralized, so if we want to have a chance at a better country we must blatantly confront America for who she is, not what she can be.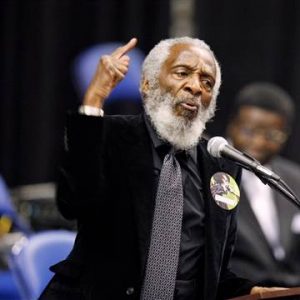 In 1968 Dick Gregory ran for President as a write in candidate for the Freedom and Peace Party. He did so after an unsuccessful campaign for mayor of Chicago. Three years after the Voting Rights Act he, a black man, was bold enough to run for the highest office in the land. He did not stop telling the unfiltered truth to run for president. Furthermore, he did not alter his campaign promises to make them more generalized to the public. He called for an end to racism, proper enforcement of constitutional rights, an end to the Vietnam war, funds from the war to be re-allocated for the building of houses and schools, and for more decent jobs to be provided. Dick Gregory strongly spoke against the then and current two-party system saying: "The two-party system is so corrupt and immoral, they cannot solve the problems confronting the masses of people in this country."
The FBI was a real threat to black activist under the administration of J Edgar Hoover, and Dick Gregory was no exception. Hoover deemed him a threat as he was aware of Gregory's rhetoric and influence. This threat never stopped Dick Gregory from speaking his mind, and educating us on the truth of this nation…and what happened to its leaders. Black Americans that studied history beyond the surface would find the words of Dick Gregory where as some others would just right him off as senile and angry.
He did not by the reports of how Malcolm X, Dr. Martin Luther King, nor President Kennedy died. He spoke out, and wrote about his theories, and how he felt the people were misled regarding the deaths of these leaders. He sincerely wanted us to know what happened to them, and why. In knowing this we'd have a greater respect for the causes in which they died, and remember we can't trust what comes out of the mouth of the government. They will never tell us the truth.
There is so much we can learn, and will continue to learn, from the life of Dick Gregory. We won't always agree on the theories presented, but there are some truths he told that will continue to echo as we face this current administration. Dick Gregory told unfiltered truth, and he did so with confidence. That takes courage, heart, and knowledge. To move forward as a people in this country we cannot allow ourselves to fall victim to cowardice. When I think of Dick Gregory I will be reminded to speak truth with no filter…for if I am to die I will do so with my conscious intact. He has now transitioned to that of an ancestor, and we owe it to him to continue his legacy of unfiltered truth.
Staff Writer; Christian Starr
May connect with this sister over at Facebook; https://www.facebook.com/christian.pierre.9809 and also Twitter; http://twitter.com/MrzZeta.