What Does Colin Kaepernick and Donald Trump Have in Common?
(ThyBlackMan.com) Both are sojourners in search of recognition, appreciation and a home; on both sides of the football! Just kidding. The NFL has been accused by many players of cruelly blacklisting Colin Kaepernick, a former quarterback for San Francisco 49ers, who knelt down in 2016 during the National Anthem. Kaepernick played a key role in consecutive NFL Championship games for his team before the 49ers football team was ruined from the inside by coaching changes. Colin still had the ability to shine under the leadership of poor coaches and is the greatest of all-time with regards to his touch-down, interception ratios in the NFL. Despite this tremendous record, he has been out of contract since he decided to terminate his deal with the San Francisco 49ers.
Blacklisting conspiracy denied by Roger Goodell
Roger Goodell the Commissioner of the NFL has expressed total denial to the idea that Colin Kaepernick is being blacklisted for politically standing against last year's disturbing increase in the murder rate of young black men by decadent white police officers in the United States, some ardent supporters of the movement known as Black Lives Matter.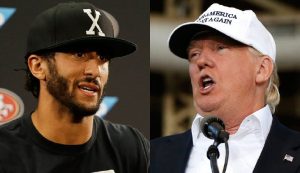 Colin described his kneeling during the National Anthem while starting for the San Francisco 49ers at quarterback as an act to increase awareness about the issue and to possibly initiate productive dialogue between both parties.
Quite a good number of NFL players and personnel have testified that Colin Kaepernick's demonstration prompted the start of dialogue. He has however been out of a job since his demonstration for mixing football and politics, according to many people who didn't like the gesture. Roger Goodell, seems to stick with his belief that all NFL teams want to better their squads, and will move ahead to sign Kaepernick if they are sure he improves them.
NFL Duplicity
There is a great image of hypocrisy at the moment within the NFL concerning Colin Kaepernick. The owner of the New York Giants, John Mara, rejected claims made by Roger Goodell that teams will sign him for sure if they feel he will improve their squad.
Mara clearly stated that talent on the field had little role to play in the considerations of bringing Kaepernick to the Giants, who have received fan letters with promises of anger if he is signed. It is important to note this anger isn't promised due to him being an inferior player, but because his political ideology.
This same John Mara once insisted that field performance was all that mattered when staying on the side of a kicker facing charges for having beaten his wife. He who at that time disregarded legal problems is using the dislike of Colin Kaepernick by fans as an excuse for not wanting to sign him despite his undeniable field talent. If the culture of the NFL is one in which kneeling in solidarity with victims of brutality is viewed as worse than literal domestic abuse, there is something about it that requires change.
This was ignored by Roger Goodell, and he still claimed that a team in need of a winning quarterback will contact Colin Kaepernick as long as they feel he is good enough to help. Colin was most recently excluded by the Seattle Seahawks who claimed he was too good to be used as a backup at quarterback and instead preferred to go with Austin Davis.
There are 3 reasons in my opinion that NFL owners know their logic doesn't line up with reality. Firstly, the eerie déjà vu mentality that dogged Muhammad Ali in 1966. Muhammad Ali's most famous act of social activism — one that would strip him of his best fighting years, cost him millions of dollars, forever alter his image and eventually send him into debt after he refused to go to war in Vietnam, seems very similar to the considerations by some NFL teams that Colin is all washed up.
Secondly, some teams are afraid of the possible backlash they could experience from fans upon signing him. Protests or even President Donald Trump's tweets are thoughtful outcomes for the team. An estimated 10% of teams are in this category while another group of about 10% is worried by a mix of these feelings.
Thirdly, most of the other teams genuinely don't like him and can't tolerate the action he performed when he kneeled during the anthem.
Referring to the interest in Kaepernick at the moment as diminished is a very kind way of putting it.
Teams could possibly be waiting for the best time to approach him. Sometimes, that's the way things work in the world of free agents. Interest in a player can stay so low for weeks or months, only to suddenly hit sky high levels.
But Kaepernick's situation is a very unusual one. He hasn't made even a single team visit. It's difficult to point out a team with quarterback needs that has interest in him. Though things could change in a moment, the silence is alarming.
Throwing out the Baby and the Bath Water
There seems to be another wrong perception that Colin is finding it difficult to learn new schemes.
In addition to these, some ungrounded and inaccurate concerns about his mood and inability to be a good teammate are beginning to linger. Feedback from 49ers players on Kaepernick clearly indicates the love and respect most of the locker room in San Francisco had for him.
Kaepernick can stay very hopeful drawing strength from the declining level of quarterbacks in the market. Former Chicago Bears quarterback; now out of retirement Jay Cutler's occupation (Miami Dolphins) of the top spot says it all. I am of the opinion that signing Kaepernick is worth more than any possible backlash.
The inclination that Super Bowl quarterbacks only needed to be able to chew gum while walking in order to get opportunities only makes harder to emphasize the unusual nature of Kaepernick's current situation enough. They are often hit with opportunities until they get completely done. The same cannot be said about Kaepernick's case.
He made a playoff-record run of 181 yards and two scores as the 49ers beat the Packers four years ago in a divisional playoff game at Green Bay, 45-31. The Niners went on to upset the Falcons in Atlanta at the NFC title game. They then fell short on winning Super Bowl XLVII, losing to the Ravens failing with a last-gasp drive that fell short by five yards. This writer has a replica ring of Super Bowl XLVII in commemoration of his performance in that game. Kaepernick was very efficient during the playoffs with an impressive pass completion rate of 61.3 percent, just two interceptions thrown and a combined 100.9 quarterback rating.
The fact that teams are aware of the recent low level of talent around Kaepernick despite his amazing performances adds a great deal of intrigue to the whole story. For the past few years, the 49ers have frankly been a dumping ground clearly seen with the quality of some of the players surrounding their quarterback.
In the midst of all this, no one is reaching out to him or even ringing his phone off the hook. Kaepernick's new agents may have foreseen this, explaining the unsurprising reports that he would start standing during the anthem to ESPN's Adam Schefter.
Colin Kaepernick is now settled and waiting, still fully loaded with talent but just might have lost his NFL career for simply making a nondiscriminatory political statement. This week Donald Trump threatened to shut down the government if the boarder wall between the United States and Mexico was not built; maybe he should threaten to employ Colin Kaepernick if this demand is not met. Now that is something that would throw the NFL owners and Trump followers for a loop.
Staff Writer; Stanley G. Buford
Feel free to connect with this brother via Twitter; Stanley G. and alsofacebook; http://www.facebook.com/sgbuford.