Sports reaction from the unbelievable events in Charlottesville, Virginia.
(ThyBlackMan.com) Last weekend, Charlottesville, Virginia, represented a small hub for racial anger and angst which also included a terrorist attack that killed someone and injured several others. Last Saturday, white nationalists gathered together to organize in opposition to a plan by local officials to remove a statue of Robert E. Lee, Confederate general, from Emancipation Park in Charlottesville. The white nationalists march was interrupted by counterprotesters and the encounters got physical.
The most violent action was when a car driven by James Alex Fields Jr. slammed into a crowd of counterprotesters, which resulted in the death of 32 year old Heather D. Heyer and the injuries of several other people. The events in Charlottesville were so chaotic last weekend that Virginia governor Terry McAuliffe called for a press conference where he told white supremacists to leave America.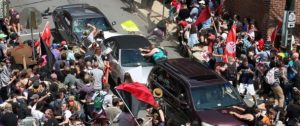 There was plenty of strong reactions from athletes and sports figures to the events in Charlottesville that show how much it affected those who saw what was happening.
The most recognizable athlete in America, LeBron James, used Twitter to express his frustration towards the violence and white nationalist marches in Virginia. He tweeted, "It's sad what's going on in Charlottesville. Is this the direction our country is heading? Make America Great Again huh?! He said that." In a separate tweet that day about the events, he tweeted, "Our youth deserves better!! Flat out." James is well aware of how overt racism can affect people because he was the victim of a racist message painted on his house a few months ago.
Polarizing quarterback Colin Kaepernick might not play in the NFL during the 2017 season but that doesn't mean that his influence will not be felt. Last Saturday evening for the Raiders' preseason game, Oakland Raiders running back Marshawn Lynch decided to sit during the playing of the national anthem, which might have been due to the events in Charlottesville, Kaepernick's unemployment, or another political reason. Lynch did not talk to reporters about why he sat but based on Lynch's prior history regarding the national anthem there might be a reason why he did it last Saturday.
Seattle Seahawks defensive end Michael Bennett did not hide his reasoning for sitting during the national anthem last Sunday before his team played their first preseason game. He had a thorough and detailed explanation and said, "First of all, I want people to understand that I love the military. My father's in the military. I love hot dogs like any other American. I love football like any other American. But I don't love segregation. I don't love riots or oppression." Bennett mentioned that what happened in Charlottesville led to his decision while saying, "Charlottesville had a lot to do with it but I think it's just the journey of who I am as a person. I think everybody has a time where they feel like they need to be who they are and stand up for what they believe in." He plans to stage his national anthem all season.
Current NFL players Chris Long and Kyle Long, who are brothers that grew up in Charlottesville, also had a reaction to the Charlottesville events. Kyle Long sent out prayers to the people involved while Chris Long, who has been a vocal supporter of Colin Kaepernick, tweeted his anger towards the white supremacist marches by tweeting, "Insanely frustrating. Evolution will favor the self assured… not man babies with tiki torches or people playing "militia"". Athletes have reacted to the eye opening events in Charlottesville, Virginia, with similar emotions as the public.
Staff Writer; Mark Hines