Nokia 6 Makes History: Nokia's Comeback Sparks Fear among Rivals.
(ThyBlackMan.com) Book a Nokia 6 on Amazon and you will be one of the 1 million plus who have purchased the mobile phone. The phone is already available in several regions around the world, and soon it will reach new markets. Recently, the phone got UK release and now it is reaching America. The increasing demand for Nokia's highly capable Android phone is an alarm for rivals. The Finnish company HMD Global, where the original creators of Nokia phones are working is selling high-end Android-based budget Nokia phones at a low price.
With the new Nokia 6, the company has changed the way we look at Nokia phones, but it's all in a very positive way. Let's see what it is. The moment you turn on the phone, it takes you back to the old days with the original Nokia ringtone, but soon it makes you realize that you're in 2017 holding a box-like phone that comes with slight curves. The phone is very comfortable to hold. Its 5.5-inch IPS LCD display is bright and a smooth metal exterior gives it the premium look.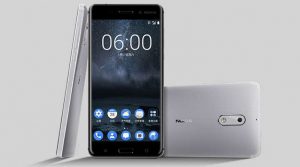 Available in five colors including glossy Arte Black limited edition, Nokia 6 is packed with powerful hardware. The phone runs on pure Android and doesn't bring any flashy applications, so don't expect much in terms of exclusive apps or rich features. It's a budget smartphone that does the job perfectly. The device is focused on pure experience which is actually good because Google Play Store has everything and can handle things for UI fanatics.
One thing about Nokia is still the same – deliver what users need in everyday life. Nokia gives power to users. With the new phone, the company has made sure giving more power to customers. It is clearly visible that Nokia has not invested more time in design aspects; the phone is more about practical life. If you look at this phone from an average user's perspective, you won't find its design bad. Users who prefer design aspects more than the machine's power, the 6 is not a very good looking phone.
The physical design is not something Nokia wants you to focus on. The company wants you to look inside of the phone. Inside, there's a 4GB RAM only in the limited edition phone which is Arte Black, and if you love the other colors of the phone, you will have to settle for 3GB RAM which is not bad. Since the phone runs stock software, the amount of reserved memory would be less. There are two storage options in the phone, either you go for 32GB or choose the double. Once again, only the limited edition is available in 64GB storage option. Thankfully, Nokia has given a microSD card that uses the second Sim slot.
The Nokia 6 doesn't have the best processor, but Snapdragon 430 is powerful. If you remember the Moto G5, it runs on the same processor and there are many other phones that use the Snapdragon 430. The power of this octa-core 1.4 GHz processor and graphic processing power of Adreno 505 can't be ignored.
When we say Nokia actually cares about the day to day needs, the company proves us right. Dual speakers with Dolby Atmos support don't need any explanation about how loud and clear sound this phone produces. A 3000 mAh non-removable battery doesn't disappoint in terms of battery life, but since it is integrated, this can turn out to be a deal breaker in some cases.
The phone is packed with a 16MP primary camera and a dual-tone dual-LED flash. The camera isn't great, but it is capable of clicking detailed images. There's an 8MP secondary camera too which is capable of taking good quality selfies.
There's nothing outstanding in the phone. Nothing in terms of software or design is actually something that stands out, but it is not just another generic Android phone people can easily ignore. The Nokia 6 screams and proves that it comes from people who still design phones with the spirit the company is known for and that's enough to spark fear among the rivals.
Staff Writer; Corey Shaw
Have any Tech Tips? News? Hit up our Tech Guru at; CoreyS@ThyBlackMan.com