Rich Homie Quan: Potentially Facing Time.
August 6, 2017 by Staff
Filed under Uncategorized
(ThyBlackMan.com) Dequantes Devontay Lamar also known as Rapper Rich Homie Quan was born on October 4, 1989. He is known for rapping, song writing, and singing from the city of Atlanta, Georgia. He is signed to an independent label. While in school he had an interest in poetry but was very shy, he also played basketball for four years and attended McNair Sr. High School.
Rich Homie Quan even began playing varsity baseball and earned a scholarship offer from Fort Valley State University. He then decided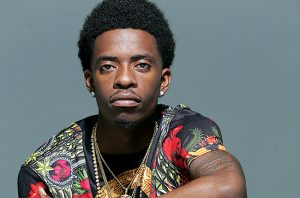 his interest was somewhere else and began rapping and landed a job at the airport. When he lost his job he turned to illegal activities such as stealing which ultimately landed him behind bars for a total of fifteen months in prison for burglary. He says he never saw himself going so far with music, it just started out as a hobby. Once he was released from prison he began to take it more serious and that is when it began to happen for his career.
In 2012, the song called "differences" was released as the first single from his very own mixtape "still going in". Finally in the year of 2013, he went on his first tour with Trinidad James. Quan shocked the world and his fans with song "type of way" which led to the New York Times writing that he was apart of Atlanta's rising artists, the song peaked at number fifty on the US Billboard Hot 100, and named the tenth best mixtape of 2013. Rich Homie Quan has a total of three children, which are all boys their ages are 9, 3, and a few months old.
On May 28, 2017 things took a turn for the worst, Quan was arrested in Jefferson County, Georgia on felony drug charges after being stopped at a checkpoint in Louisville, Georgia. Fans were shocked when various media outlets displayed the story in the news as of June 1, 2017 the public learned he could potentially face anywhere from fifteen to thirty years in prison for drug possession.
Though the gun charges have been dropped, law enforcement reportedly said the drugs found in his possession were marijuana but withheld the amount he carried. HIs bond has been set at $20,000, it is crazy how many people get away with rape, murder, and other hate crimes and are freed while a man in possession of marijuana is threatened with 30 years behind bars? Hmmm… the world we live in.
Staff Writer; Myra Moore