iPhone 7 vs HTC U11: Apple Is Better Only If You Disregard Technical Wisdom.
(ThyBlackMan.com) For many, it's hard to see the iPhone 7 vs HTC U11 comparison. Other than the haters, everyone adores the devices Apple launches. The company has introduced some of the greatest innovations including music players, smartphones, PCs, and tablets. A typical Apple fanboy knows how far the company goes to innovate and bring something outstanding every year. It is true also, but unless you disregard technical wisdom, Apple iPhone 7 is not the best and doesn't pack the best hardware.
iPhone 7 vs HTC U11: A Surprising Battle
Both the HTC U11 and iPhone 7 belong to different release years, but if we look at the development cycle followed by Apple engineers and designers, there's a lot of time for any of its competitors to beat iPhones with better hardware. Now when HTC has already released U11, there were no major improvements seen in the Apple's iPhone 7 over the iPhone 6. Even some of the journalists who always speak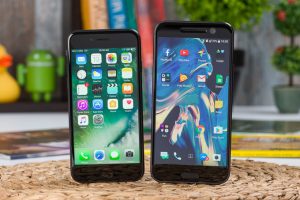 the language of Apple's advertising components suggested iPhone 6 owners not to upgrade and wait till the iPhone 8 comes out.
HTC has brought many things the world saw for the first time. The company introduced first Android phone, 4G enabled phones in the US and HTC is also known as the one that brought us Windows phones through its hardware. Now when we are in 2017, things are different. In the last couple of years, the company has seen an obvious downfall because it stopped looking for innovation. All the players including Samsung, Xiaomi, and even Oppo did better than HTC because HTC did nothing in terms of implementing fresh ideas.
iPhone 7 vs HTC U11: Technical Comparison
If we fast forward, today, HTC is one of the most innovative smartphone makers. HTC U11 is an example. It's squeezable, and you can press it just like how you press a plastic bottle. It has pressure sensors on its edges. One of the most awesome features is Alexa integration. You can use it without having to unlock the phone, meaning that you get complete hands-free experience with the virtual assistant. Everything you can do on ECHO can be done on the U11.
Apple when launched the iPhone 7, disappointed us because of the absence of a good battery and innovation. Despite being criticized by many, the company successfully managed to sell millions of units.
There's so much more where HTC beats Apple, and the iPhone 7 vs HTC U11 comparison gives us the clear picture.
HTC phone gives you considerably higher display resolution and display quality. The HTC U11 sports a 5.5-inch (1440 x 2560 pixels with 534 ppi pixel density) display while the iPhone 7 brings a 4.7-inch (750 x 1334 pixels with 326 ppi pixel density) screen. So if the bigger screen is your choice, U11 is an obvious choice as both the devices have IP67 rating making them water resistant. The iPhone 7 has a pressure-sensitive display (3D Touch), while the HTC U11 has pressure-sensitive edges. Here HTC makes a groundbreaking change in terms of technology, the Edge Sense.
As far as their performances go, unlike the Apple's Fusion chip, Snapdragon 835 by Qualcomm is more efficient. When we dig deep into their processors, Apple's iPhone 7 runs on a 16nm chip while the U11 uses 10nm process. According to Qualcomm, the Snapdragon 835 is 27% faster and consumes 40% less power than its predecessor(14nm). It is very clear that Apple's own chip in the iPhone 7 is not as powerful as the Snapdragon 835.
HTC U11 brings 4GB RAM while the iPhone 7 relies on 2GB. HTC has introduced the phone with just 64/128GB options. For some, it is a hard to accept the deal, because Apple brings their phone in three storage options 32/128/256GB. What makes things better for HTC users is the existence of a microSD card slot which you can't find and probably won't need in the iPhone 7.
With 3000mAh battery, the HTC U11 isn't a very big phone and is, of course, capable of giving better battery backup than the iPhone 7's 1960mAh. HTC also won't disappoint audiophiles, but if you are an Apple fan, grab a decent pair of headphones to enjoy music on the iPhone 7.
The Verdict
Despite all the differences we saw in the iPhone 7 vs HTC U11 battle, if you are unable to break the brand loyalty, the choice is obvious. If you really think about the technical aspects and need a high performing phone which you don't want to ditch anytime soon, go for HTC U11.
Staff Writer; Corey Shaw
Have any Tech Tips? News? Hit up our Tech Guru at; CoreyS@ThyBlackMan.com