Looking For More Man Time? Sports Are The Answer.
(ThyBlackMan.com) Everyone needs a little time alone to de-stress or time with the friends away from the pressures of everyday life, but for guys with multiple responsibilities such as families and work, it can be tough to find activities that serve this function. However, getting back into a sporting activity might just provide the answer. Read on to find out more.
Basketball
Basketball can be a great way to fit a little easy man time into your life. There are leagues all over the country that cater to many different levels of expertise, that you can join or train with to get up to speed. Also being part of a team can be a positive experience, as it can help you form bonds with the other players and be part of a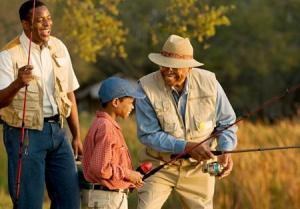 group.
Of course, there are other benefits too such as the aerobic exercise you get from playing the game, which is ideal for fitness and mood. As well as the increase in focused and dedication that can also occur as you are trying to improve your jump shots and the three pointers.
Fishing
A wholly different but still rewarding activity suitable for getting some man time in is fishing. Fishing is loved by many because it provides a chance to be still and absorbed within nature. It can give folks an almost meditative experience as they get to sit outside and connect with their own thoughts and their bodies in a way that modern culture rarely allows.
Of course, there is also all competitive and skillful element to fishing as well, making it a perfect man activity, and also providing a chance to research into the spots and the techniques with things like this fishing guide, even when you are not out on the water. In fact, if details are your thing you will find plenty to keep you absorbed when choosing the right equipment and bait for your latest session.
Golf
Another great activity that you may wish to consider for your allotted man time is golf. Again this is an outdoor activity that is easy to pick up but takes a lot of skill to master. That means it can provide a welcome outlet for both competitiveness and self-improvement. With formal lessons and your own practice time making a big difference in your performance.
It also works well, because it's something that can be done as a solo activity if you are looking for some me time. Or in a group, if it's the camaraderie of other guys that you are looking for.
Running
Lastly, let's us not forget running as a great way to set aside some me time for guys. The extreme exertion on the running means that other issues and problem in life fall away as you become only focused on the moment.
Also, it's something that can be done whether you are at home, on vacation, or traveling for work. That makes it a great go to activity for man time because no matter where you are you can always strap on your shoes and get out there and pound some pavement.
Staff Writer; Kyrie Carter